| | |
| --- | --- |
| | / Summer Climbing Courses |
Despite the poor start to the summer, we are hoping and praying for better weather over the coming months and would love you to coming and join us on one of our amazing climbing courses.
Based in Llanberis, the heart of rock climbing in Snowdonia and North Wales, the courses are designed to help you improve your climbing whatever level you are at. As such we run a variety of courses from an introduction to trad climbing right the way through to Performance Coaching.
Our courses are run by Mark Reeves, a highly experienced Mountaineering Instructor who also holds an MSc in Applied Sports Science with effective coaching. Mark also wrote the self-coaching book "How to Climb Harder" for Pesda Press. This enables Mark to identify your weaknesses and work on your techniques, tactics and mental approach to rock climbing, as well as covering the more conventional ropework and safety skills. This is achieved by setting up effective practice for you to learn these new skills in a controlled setting before helping you apply them to climbing at your limit.
This summer we have many courses running, below are a selection.
Lead Climbing Coaching
21st-22nd July - £250
Intro to Lead Climbing
23rd -27th July - £250
Sea Cliff Climbing Course
30th July – 3rd August - £500
How to Climb Harder
11th - 12th August - £250
Lead Climb Coaching
13th – 17th August - £500
Guided Classics
25th – 26th August - £250
More courses are available on our website and in the brochure which are linked to below. If the course dates don't suit you then please get in contact and we will try to accommodate any requests.
Part-time Fast Track Instructor Course
If you'd fancy becoming an rock climbing and mountain instructor then next year we are introducing a great new course that has all the benefits of a fast-track course, without the need to quit your job. We achieve this by running the course over weekends, with only a few days occuring during the week. Meaning that if your 9 to 5 is getting you down and you want to explore a new career then this might be you ticket into the industry. The course is scheduled to start in January 2012. Full details can be found here:
http://snowdoniamountainguides.com/CPDPartTimeInstructorTraining.php
You can find out more here:
http://snowdoniamountainguides.com
Or download our course brochure here (large PDF):
http://snowdoniamountainguides.com/SnowdoniaMountainGuidesCatalogue.pdf
You can follow us on Facebook at:
https://www.facebook.com/pages/Snowdonia-Mountain-Guides/242547049173486
or twitter by following @verticalife
Do you really mean, "The course is scheduled to start in January 2012."?
---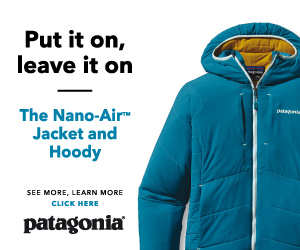 Elsewhere on the site
On Saturday 13th December Greg Boswell and Guy Robertson kicked off their Scottish winter season early by making the... Read more
141218
0
The release of Peter Jackson's new film The Hobbit: The Battle of the Five Armies on 12th December may not appear to link to... Read more
141212
0