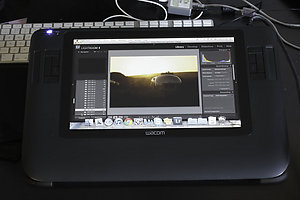 Wacom Cintiq 12WX Graphics Tablet with
Introus 3 Art Marker and Introus 3 Air Brush
All is in excellent condition, except two minor scratch on the screen(not visible when in use) and the left hand scroll tab doesn't work, right hand one functions perfectly.
Items supplied with original packaging and cables to go from the Cintiq box to DVI or VGA.
Excatly what you are getting is as follows:
Cintiq 12WX Interactive Pen Display
Cintiq Grip Pen with Pen stand and 4 replacement nibs
Introus 3 Art Marker with Pen stand and 3 replacement nibs
Introus 3 Airbrush with Pen stand and 3 replacement nibs
Converter Unit for USB, DVI or VGA connection
Power supply with power cable
Smudge Glove,
Userīs manual
Bundle Software CD (Corel Painter Essentials 3)
Reason for selling is I brought the tablet and have had it for three years but haven't found I've needed it for the Graphic Design I've been doing.
Over the last three years the device has been used for a maximum of three weeks all together. Hope to sell to a good home were it will actually get used.
Further images are available on request.
Selling all together and including postage(first class recorder) Ģ450