| | |
| --- | --- |
| | / Good MTB areas in the Alps |
This topic has been archived, and won't accept reply postings.
Thinking of going to the Alps in August for mountaineering and takings the MTBs as back up in case of poor weather / conditions. We have hardtails and are happy doing hardish reds in places like Coed y Brenin and Afan. So cross country single track with some ups and downs is fine, as is downhill as long as it isn't proper black standard as we'd be walking that! Whereabouts would be some good places to go? Flexible on location so anything from tge Ecrins to the Oberland but would need to be fairly close to mountaineering areas (unless the weather completely craps out...). Thanks
In reply to
Misha: Chamonix has some great Trails in the Aiguille Rouges - nothing too tough and the climbing's ok around there too I've heard.
I did a bit of biking in Chamonix a while back, nothing too hard but didn't do the proper downhill runs eg off the Flegere - what are they like?
In reply to
Misha: Slightly further away from your major mountaineering areas but les gets, morzine, chatel and les deux alpes are far superior to Chamonix when it comes to biking.
In reply to
Misha: there's some great biking to be had in the ecrin area.
In reply to
Misha:
theres a whole load of brill x country and downhill in the Portes du Soleil area. I'm a bit biased but Chatel makes a great place to base yourself - I got hooked on x country there last summer. You can use the lifts if you like or pedal like mad too. Also lots of single and multi pitch sports climbing around too with hardly anyone there climbing it. PM me if you want more specific info.
In reply to
Misha: I suggest the Hautes-Alpes which includes the Ecrins area - but a base in the main valley of the Durance will give you more scope and variety than being up in the Ailefroide valley. So anywhere from Briancon down to Guillestre or Embrun. The Champsaur behind Gap is also worth exploring.
---
This topic has been archived, and won't accept reply postings.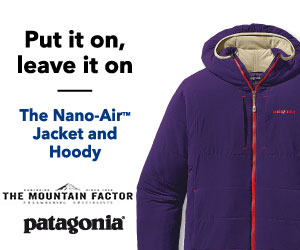 Elsewhere on the site
Rock shoes stink – let's face it. Boot Bananas are the perfect way to fight the funk and keep them fresh. They help... Read more
141219
0
Perhaps the perfect Xmas gift for the climber in your life... Wild Country's Crack School has two of the worlds best crack... Read more
141219
0
F ounded in 1993, Mountain Hardwear are a pretty young mountaineering clothing and equipment manufacturer but are also one of... Read more
141216
0
Tonight's Friday Night Video features the Norwegian town of Rjukan, once believed to be the home of the world's tallest... Read more
141219
0
At a bar in Llanberis an old man chimed in And I thought he was out of his head Being a young man I just laughed it off When... Read more
141203
0
---