| | |
| --- | --- |
| | / Climb App Now Available to Download FREE |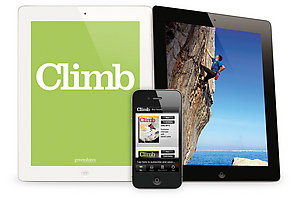 Get the edge.
Climb Magazine is now available to download as a digital edition with additional unique content, ready to read whenever you want, wherever you want on your iPad or iPhone!
Download the Climb app for free via Apple Newsstand, and there, you will able to purchase both single issues and subscriptions.
Every month your new edition will be ready to download on launch day and permanently stored in your own magazine library forever.
Please be aware this is currently available for use on iPad, iPhone, iPod Touch. Requires iOS 4.3 or later.
Get hold of it now!
http://itunes.apple.com/us/app/climb-magazine/id537987175?ls=1&mt=8
August issue available now!
Featuring
Leo Houlding telling his story of his first ascent of
'The Yopo Wall'
An interview with Shauna Coxsey, Britain's leading female competition climber
Ed Douglas reporting on what's been going on this year on the world's highest mountain
Also featuring video footage from award winning film maker Alastair Lee, training tips from Neil Gresham and an introduction to Climb from Ian Parnell
September issue out 9th August 2012
In reply to
Climb Magazine: On the free app as well as purchasing the latest issue (the first proper digital edition with numerous extras) or subscriptions you can get a free download of the May edition for the next few weeks.
In reply to
Climb Magazine:
What would make it really useful would be the option to purchase back issues I've missed, rather than just the latest.
In reply to
Fredt: There are actually a few back issues currently available in the store now. As we launched with the August issue, we decided to make the May, June & July editions available as back issues as well. In addition, to celebrate the launch you can download the May issue free until the 9th August!
More back issues will be added very soon, so remember to check back or sign up to our push notifications to be alerted when new issues have been added.
We'd be happy to hear what you think, so feel free to give us your feedback.
In reply to
Climb Magazine:
Sorry, still can't see how to obtain the July issue.
In reply to
Fredt:
I've just double checked this end and I can definitely see all the back issues using both the iPad and an iPhone. So, here are the steps I followed to display the available issues.
Download the Climb App from Apple Newsstand
Open the App
At the bottom screen is a 'Buy' button with a small shopping trolley above it. Click on this.
All the available issues and subscription options will be shown on here.
Purchase the Issue you want by clicking the 'Buy £2.99' button above the issue name and follow the on screen instructions from there. (N.B. Issues you have already purchased will not have a 'Buy £2.99' button but a 'Read' button instead)
Once the issue has downloaded click on the 'library' button at the bottom of the screen (next to the 'Buy' button) and your purchase will be kept in there for you to read
I hope this helps. Please let me know how you get on, obviously I'm keen to make sure you can access the issue you want.
Karen.
In reply to
Climb Magazine:
OK, many thanks. The problem was that I'd downloaded the free May issue. when I opened it all I saw was that issue. I eventually spotted the 'back' button to take me back to app home page, where the other issues were available.
Many thanks.
---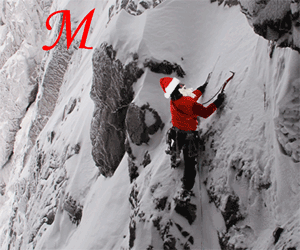 Elsewhere on the site
The release of Peter Jackson's new film The Hobbit: The Battle of the Five Armies on 12th December may not appear to link to... Read more
141212
0
Perhaps the perfect Xmas gift for the climber in your life... Wild Country's Crack School has two of the worlds best crack... Read more
141219
0
Tonight's Friday Night Video features the Norwegian town of Rjukan, once believed to be the home of the world's tallest... Read more
141219
0
Rock shoes stink – let's face it. Boot Bananas are the perfect way to fight the funk and keep them fresh. They help... Read more
141219
0
F ounded in 1993, Mountain Hardwear are a pretty young mountaineering clothing and equipment manufacturer but are also one of... Read more
141216
0
---