| | |
| --- | --- |
| | / Ice screw recommendations |
This topic has been archived, and won't accept reply postings.
I'm going to spend two weeks in Norway in February to step up my ice climbing act. I've done some lead climbing but the instructor provided the screws. This time, if I'm to do any lead climbing, I must provide my own.

So.. What size ice screws are most useful if I'm to buy four or five? The cheaper set's by EMS are appealing but they only include the shorter screws.

I'm currently looking at the Black Diamond Express, unless someone can sway me otherwise.

Recommendations/suggestions would be appreciated.

In reply to
frqnt:
I've been impressed by BD screws, generally 6-8" are the norm with one longer one for A-threads and belays. A stubby 4-5" screw is probably a good idea for thinner ice.
BD express are good. I'd suggest two stubbies, one 22cm, with the remainder 16cm.
In reply to
frqnt: You will not go wrong with BD's. Some prefer Grivel on the basis that they are slightly easier to start. This is probably true but I find that they are awkward to rack on the harness. BD's on the other hand stack neatly up against each other. 16-18cms tend to be the most useful You will also need at least one 22cm screw each for belays. Depending upon the route you are likely to need between 6 and 12 screws in total. Not cheap but it is worth paying the extra for the Express if you can.
Al
In reply to
frqnt: Everybody has their favourites, each with pros and cons. Top ranking are BD Turbo Express, Grivel Helix and Grivel 360s. I would say Helixs as a first screw as they are easiest to place, BD TEs as a close second (easier to rack, but fiddlier to get started when placing) and 360s for more advanced use as they go places no other screws can, but they are the most tricky to rack.
I would get 2 x long, 2 x medium, 1 x short
In reply to
frqnt:
As has been said, pretty much everyone has their favorite screw, be it Grivel or BD something.
I happen to prefer BD Express'es.
The idea is to have one long one (ie. 22cm) for belays and makin' abalkov's. Your partner should also have one long one, as on multipitch climbs, you'll need to have two stands.
One or two stubbies (ie. 13cm) might be useful, especially early season.
My to-go screws are 16cm and it's what I use when the ice is good and compact. Maybe one 19cm screw would also be handy (shoddy ice, or to be used on the stands).
So, my suggestion is:
1 x 22cm
1 x 19cm
2 x 16cm
1 x 13cm
And your partner should have about the same. If you can get 6 screws... add another 16cm screw to the set.
This would be for cold climate ice falls. For summer alpine glaciers you'll prolly want longer screws (as the ice is not as good).

In reply to
frqnt:
I have a set of 5 unused BD Express screws that I will be posting for sale in a month or so. Have emailed you.
---
This topic has been archived, and won't accept reply postings.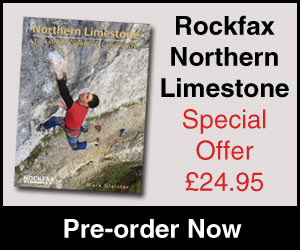 Elsewhere on the site
F ounded in 1993, Mountain Hardwear are a pretty young mountaineering clothing and equipment manufacturer but are also one of... Read more
141216
0
Perhaps the perfect Xmas gift for the climber in your life... Wild Country's Crack School has two of the worlds best crack... Read more
141219
0
Tonight's Friday Night Video features the Norwegian town of Rjukan, once believed to be the home of the world's tallest... Read more
141219
0
The release of Peter Jackson's new film The Hobbit: The Battle of the Five Armies on 12th December may not appear to link to... Read more
141212
0
Rock shoes stink – let's face it. Boot Bananas are the perfect way to fight the funk and keep them fresh. They help... Read more
141219
0
---