| | |
| --- | --- |
| | / Patient lakeland partner needed |
This topic has been archived, and won't accept reply postings.
I learnt to climb about eleven years ago and spent a blissful summer on Lakeland rock, followed by a bit of climbing in NZ that winter and then a bit of Lakeland climbing the following summer. I was just foraying into leading and the pinnacle of my achievement was leading a couple of pitches on Troutdale Pinnacle.

And then - not a lot happened. Maybe a couple of short climbs per year, but mainly nothing. I have done a little this year, but am finding it tricky to find people to take me out. Most people want to do more challenging stuff than I am up for, and the one person who is willing has opposing work schedules to me.

I work split shifts and am free between 12 and 5pm Weds - Sun, and off all day Mon and Tues. I have lost a lot of my confidence - I still know HOW to climb, but wet or polished rock freaks me(so NOT the popular routes on Brown Slabs!) I have never been good on steep routes and even less so now, so need someone who is willing to do nice angled climbs up to severe. When time permits I infinitely prefer high crag climbing (my fave route this year was Oxford and Cambridge linked to another route on Grey Crag in Buttermere; fave route of all time is Tophets Wall on Great Gable). I am about 10 mins from Shepherds Crag, so that is very easy for me to access on a split shift, but am happy to go further afield.

You also need to know that adrenaln makes me incredibly tired, so I tend to only want to do one or two routes if they are short. Because I know I have to get to the top, and because I enjoy them more, I manage to keep the adrenalin levels going for a bit longer on the multi-pitch, high level routes. But don't expect me to be up for 6 routes on Shepherds! One is very often enough if it is the quality of Little Chamonix. After that, cake calls at Shepherds Caff!

I appreciate that this sounds very exacting, but I know from past experience that if I don't spell out my lack of confidence and the effect adrenalin has on me, that both parties are disappointed.

I really want to improve my climbing and get to a stage where the adrenalin isn't pumping quite so much, so that I can do more in an afternoon. I would also like to get to a stage where I can begin to lead again. It;s the rope work that gets me - setting up a belay worries me considerably! Placing gear makes sense - how the rope works is....gobbledy gook!

I appreciate this is quite a challenge, but is there anyone out there who thinks they are up to it?

Thanks for reading this

Fiona
In reply to
fionafluffy: a bump for you fiona,
You are not as challenging as you make out, and are a good belayer, and very good company too.
H x
P.s. you always get the gear out too!
In reply to
fionafluffy: Hi Fiona. Don't know if its any use to you but i will be doing my MIA in October so would be keen to get out with you and use the experience for my teaching days. I recently went climbing with someone who was also baffled with the creation of belays and she learnt a lot from just a couple of climbs at wallowbarrow, so i would be happy to teach you some bits and bobs. i am free on the 22, 28 - 31 august if that helps. I am south lakes based but dont mind travelling if it means i get to climb.
cheers
Ben
In reply to
fionafluffy:
Fluff, I can't help with your general request, but on this ...
> I really want to improve my climbing ... It's the rope work that gets me - setting up a belay worries me considerably! Placing gear makes sense - how the rope works is....gobbledy gook!

... the *mechanics* of ropework, setting up belays, etc. is something that can be figured out at leisure and practised at home, rather than in the (possibly) more pressurised and serious environment of an actual crag. So you might consider doing that.
Also: never forget that the activity is supposed to be *fun*.
Good luck, whatever happens.
In reply to
BWard:
Thanks Ben - 22 is out, and I have a friend up visiting on the other dates, but I don't think she will want entertaining all the time!
Wallabarrow has some lovely routes on it - would be v happy to go down there on my days off, so Tues 28 would be viable. The other days you mention I am only free between 12 noon and 5pm (and need to be actually in work by 5...)
I understand there is a way to email people, but I haven;t worked it out yet... If Tues 28 is good for you, perhaps you can drop me an email (assuming you know how...)and we can sort out the details.
Thanks v much
Fiona
In reply to
abcdefg:
Thanks for the tips Alphabet!
However, people learn differently and I definitely need to learn on the job, so to speak. I've tried playing with ropes before at home, but my focus and attention drifts, I can't translate how it would work on a bit of rock with a person dangling off the end of it and I need a bit of pressure to make me try harder to work it out!
And yes, you are TOTALLY right the activity is supposed to be fun, but so often I find this isn't shared by other climbers. If I'm not enjoying doing yet another route on Shepherds buy want to go and chill with a cuppa and some homeemade cake at the cafe, then THEY aren't having fun. I like to climb a little, chill a little - it's not a devouring obsession!
Anyway, before I get stuck into deciphering the ropes, I need a bit more climbing practice methinks!
Thanks for you help and interest,
F
---
This topic has been archived, and won't accept reply postings.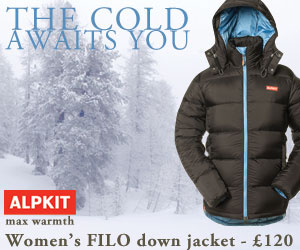 Elsewhere on the site
Perhaps the perfect Xmas gift for the climber in your life... Wild Country's Crack School has two of the worlds best crack... Read more
141219
0
Will Sim and Andy Inglis have made the second ascent of VIII,9 on Ben Nevis, followed by Will making a rare... Read more
141222
0
PowerFingers is a simple, easy to use product which is incredibly effective for Climbers who require finger strength and... Read more
141222
0
With four photos in this week's top ten, and a UKC gallery of stunning images we thought it was time we had a chat with... Read more
141203
0
F ounded in 1993, Mountain Hardwear are a pretty young mountaineering clothing and equipment manufacturer but are also one of... Read more
141216
0