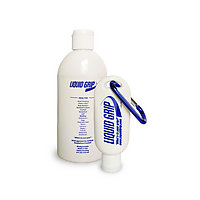 If you've not tried Liquid Grip yet here's your chance to save 10% on your first purchase!
Why would you try Liquid Grip instead of normal chalk and liquid chalk?
- a single coat will give you dry "grippy" hands for hours meaning you can climb further for longer again and again without re-chalking
- it won't let you down if it's raining or humid. Normal chalk always rubs off.
- leaves no mess or marks on clothes, bag, wall, rock. There is no transference of any kind.
- stops painful skin tears and leaves your hands soft and moisturised not dry and cracked.
- as only one application is needed per climbing session Liquid Grip is much better value, in fact our 8oz bottle will last most people 18 months even if they climb 4 times a week.
For an independent product review from an NMC committee member click this link
http://thenmc.org.uk/community/topic/2445-review-liquid-grip-a-better-liquid-chalk/
To claim your 10% discount enter code LGAUG10 when checking out at
http://www.liquidgrip.co.uk
This code expires at midnight 24th August 2012.
Thank you for reading and shopping with us.
Jonathan & Claire
Liquid Grip
**trade and distribution enquiries contact jon@liquidgrip.co.uk