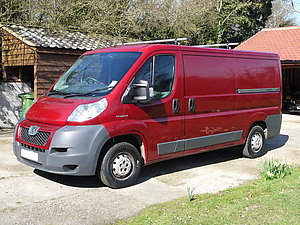 I'm reluctantly having to grow up and sell my van. It's a Peugeot Boxer 2007, 2.2 Diesel, manual. 87500 miles, Taxed until feb 2013, MOT until March 2013.
I'm the second owner and have had it for 2 years and 50000 miles. It's got a CD player, bluetooth handsfree kit, parking sensors and is easy to drive. It gets 35-40 mpg if you stick to the speed limit. It's been regularly serviced and the timing belt has been replaced recently. There are no signs that it's a camper visible from the outside. It's the L2H1 version with 3 Seats in the front and 4 extra road legal seats in the back, so you can do a road trip for 7 with full kit. Under the seats there are drawers for storage made to fit.
In the back I've paid more attention to practicality than looks so it's mostly plain plywood with insulation behind the sides and under the floor. I've put in a folding bed with a comfortable household mattress and a cupboard underneath on the right. On the left there is a work surface, mini fridge, large water container and a 2 burner gas cooker with grill and gas cylinder (pretty much full). Also under the seats there is an Eberspacher D2 diesel heater connected to the fuel tank, and a leisure battery. The LED lights, inverter and 12v sockets in the back are all connected to the leisure battery and dont flatten the main battery. Additionally you can have my snowchains as they dont fit my new car.
I'm selling because I now have a full time job to commute to and it doesn't fit in the car park at work.
£4500, but open to offers. I'm based in Brighton.
Some photos are available here
https://picasaweb.google.com/102453513632363786900/August152012?authuser=0&feat=directlink