| | |
| --- | --- |
| | / Cleaning Down Sleeping Bag |
This topic has been archived, and won't accept reply postings.
Hi - just wondered if anyone has ever had their down bag proffessionally cleaned and if so if they had any recommendations? Was it worth it?

Thanks
In reply to
Doghouse:
If it is a 2/3 season bag, I would suggest washing it yourself. I have done it a couple of times in the washing machine with Nikwax down wash, then tumble dried on low with tennis balls (it takes about 3 cycles to dry). The bag comes out clean, smelling fresh and with restored loft.
If you dont want to do it yourself, or its a big bag Rab recommends sending it to W E Franklins in Sheffield. I haven't used the service myself so can't comment, but Im pretty sure they would do a good job.
Hope that helps.
In reply to
stranter:
Great stuff, thanks Stranter. Big, heavy 4/5 season bag so ideally looking for it to be proffessionally cleaned.
In reply to
Doghouse: I have recently used a company in Cumbria - Mountaineering Designs, I think. They also offer restoration for down bags and clothing.
Great service and nice people to speak with on the phone.
Cal
In reply to
Doghouse:
I went to the company in Sheffield that RAB recommend. From recollection it cost about £30, but for a £200 sac that seemed worth the piece of mind in a job well done. Rab are keen to warn you in no uncertain terms about the pitfalls of washing it at home.
I always use one of those slinky silk liners now, in order to keep the bag fresher for longer.
In reply to
deanstonmassif:
There is no reason not to do it at home. The only thing is if you need to move the bag while wet (ie to a separate drier) Then just handle very carefully to avoid ripping the baffles.
Handling a 4 season bag is different due to the bulk it wont fit in most washing machines and is very heavy when wet. Hence best to send it to professional cleaning.

In reply to
Doghouse: I had my sleeping bag cleaned by Franklins, Sheffield recently. When I got it back, I honestly thought they'd sent me a new bag ! The difference was amazing. Highly recommended.
---
This topic has been archived, and won't accept reply postings.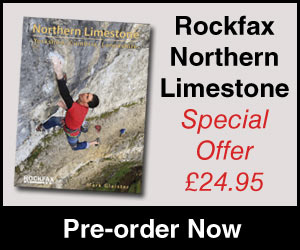 Elsewhere on the site
The Epicentre Mega Winter Sale starts in store 9am Christmas Eve. We have a great selection of in store only deals from... Read more
141218
0
With four photos in this week's top ten, and a UKC gallery of stunning images we thought it was time we had a chat with... Read more
141203
0
This years ROCfest will be slightly different. We've decided to run a Climbing Festival, not just a competition! Over... Read more
141216
0
F ounded in 1993, Mountain Hardwear are a pretty young mountaineering clothing and equipment manufacturer but are also one of... Read more
141216
0
On Saturday 13th December Greg Boswell and Guy Robertson kicked off their Scottish winter season early by making the... Read more
141218
0
---