| | |
| --- | --- |
| | / Indoor climbing, West Cornwall |
This topic has been archived, and won't accept reply postings.
Hi, I live in Stockport, and have been climbing with my daughter at Awesome Walls, which, I suspect has spoil us, seeing as it has some 23 meter walls.

Now we're moving to Cornwall (near St Ives), and I'm looking to keep up, as is my daughter, who is a real talent (she's 10 and has lead at 6a)

We've only been doing it about nine months, and because of the weather and other commitments, we've only really climbed outdoors a couple of times - which is a way of me explaining why we're interested in indoor climbing with all that Cornish rock around.

I've had a look online, and have seen Granite Planet - anyone used the place and can tell me how good/bad/indifferent it is, or if there are any other centres which I've missed.

Thanks
In reply to
Gotte:
Granite Planet is nowhere near as big as your previous wall, however there is a fair amount of climbing there and (I hear) a really good social atmosphere.
Your next closet wall will be The Barn, again not 23m high, but superb routes and bouldering.
www.barnclimbingwall.co.uk
Definitely worth having a look on this site...
http://clottedrock.ning.com/
Loads of friendly people and you may find other people in your area to lift share/climb with etc.
If you're desperate for a higher wall then there is High Sports in Plymouth, but that's a very long way to go for an indoor wall.
http://www.high-sports.co.uk/climbing_site.php?site=plymouth
In reply to
Gotte: Hi I@m sorry to say that granite planet is about all we have its not very tall or very big (though i havent been indoors all summer and there were plenty of bits of ply hanging around to suggest it might get bigger) but its sort of your only choice unless you drive up north ( which here means devon) although if you have a look there are a few good routes set ( most notibly the ones that have borgs name written under them) but it is very friendly there so worth checking out to see if it suits I also remember hearing tell of a bouldering wall down st ives way although i think it may be more of a mates garage affair it might be good if you cant make it out to some of the countrys best granite
Thanks all

Don't get me wrong, I'm glad there's a centre at all. I imagine there are plenty of places where I could be driving for hours to find one. Glad to hear the place is friendly. I imagine once moved down to Cornwall, It'll be one of the first things I check out (that and sea Kayaking).

Again, thanks for the input, and hope to see those who use PG soon.

Phil
In reply to
Gotte:
Hi, I've got to say that GP is about the most uninspiring climbing atmosphere i've witnessed, the routes are just holds bolted to the walls, rather than thoughtfully placed to mimic certain rock types and the movement and technique required, as they get harder the holds just become smaller and less frequent, although there is a couple of good routes. They are building a new area but have been for for about a year, nothing really going on.
THe Barn though is very different, i live near GP but drive to The Barn as often as i need to, well worth it, excellent bordering, route setting is also excellent, and the atmosphere is very friendly and buzzing.
Try both, you may like them both equally!

In reply to
Gotte:
Maybe the key question is what would it take to get you more able to take advantage of the natural rock resources in Cornwall? I suspect this may be your better angle.
---
This topic has been archived, and won't accept reply postings.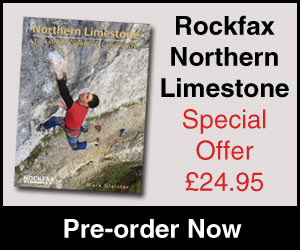 Elsewhere on the site
Rock shoes stink – let's face it. Boot Bananas are the perfect way to fight the funk and keep them fresh. They help... Read more
141219
0
Tonight's Friday Night Video features the Norwegian town of Rjukan, once believed to be the home of the world's tallest... Read more
141219
0
The release of Peter Jackson's new film The Hobbit: The Battle of the Five Armies on 12th December may not appear to link to... Read more
141212
0
Perhaps the perfect Xmas gift for the climber in your life... Wild Country's Crack School has two of the worlds best crack... Read more
141219
0
F ounded in 1993, Mountain Hardwear are a pretty young mountaineering clothing and equipment manufacturer but are also one of... Read more
141216
0