| | |
| --- | --- |
| | / Sardinia this September/October |
This topic has been archived, and won't accept reply postings.
I'm going to Cala Gonone to climb and have a beach holiday at the end of the month. from what I've heard, I'm expecting fairly warm sea conditions, accessible crags and to be able to buy a local topo easily. We're hoping to use a 60m rope and do single pitch sport routes below 6c. We're hiring a car and arriving via Caliagiari. Any recent viisitors have info or recommendations?
In reply to
Stairclimber: arramipare cala gonone is best book. the closer to the town you are the rockier the beach. walk out from tthe town the aand geta softer.... visit tiscilli and gorruppo gorge... climb supramonte hotel if you can. la poltrona is full of good routes. cala fuilli is full of easier coastal routes. dont try to take a short cut thogh the bushes it hurts.
expect the hire car to get vegatation scratches... the car hire tried to charge us but they let us off in the end.
main roads are easy to follow and in good condition. just expect the toad to cala gonone to be full of hair pin turns. the roads to crags can sone time be a little worse for wear.
eat the pig dish at snoopys its great.
ignore the boat ride to cala luna. its easy to walk to.
wrote this on phone at work so probably full of typos
In reply to
Stairclimber: If you need any more info just ask, Peter Herold can also be a useful gent to contact.
In reply to
Stairclimber:
It's really warm there in September. Was there a few years back in early september, the hotel didn't have aircon and the temperature didn't go below 23 celcius during nights...
I've only climbed in few places in Cala Gonone but there's stuff for every taste. It's an old location so expect a lot of polished routes (also because of the sea). If you are climbing 6c, I do not suggest you go trying Cala Goloritze, that thing is pretty intimidating and grades are stiff.

Some people who'd stayed with us then stayed for a couple of weeks in Cala gonone then came back to where we live 90' south for a week...they (like us) are experienced bolters and confirmed that some of the bolts near the sea are not in great shape, also some of the stances at S'Atta Ruja were a bit dodgy they said. So look at what you clip into -;) Where we live were are starting to reinforce stances by the sea, and use marine grade or better material for bolting; not sure if any progress on this front has been made at Cala G, haven't heard that anything has been done when we discussed this topic last week.
For more info (update on my previous UKC post)
http://www.peteranne.it/blog/2012/08/failures-of-stainless-steel-bolts-on-sea-side-crags/
http://www.peteranne.it/blog/2012/08/failures-of-stainless-steel-bolts-on-sea-side-crags-2/
One advantage of the Pietra di Luna guide is that it tells you when the route was bolted, so you can apply the UIAA "up to 3 years probably OK" rule.
On the other hand: recently stances have been renewed at Buchi Arta, so better than guidebook suggests. For your grade you would have fun there.
ciao Peter
---
This topic has been archived, and won't accept reply postings.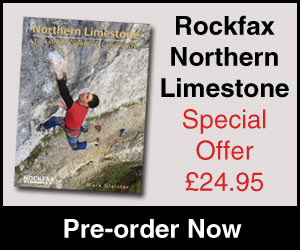 Elsewhere on the site
Tonight's Friday Night Video features the Norwegian town of Rjukan, once believed to be the home of the world's tallest... Read more
141219
0
Rock shoes stink – let's face it. Boot Bananas are the perfect way to fight the funk and keep them fresh. They help... Read more
141219
0
Perhaps the perfect Xmas gift for the climber in your life... Wild Country's Crack School has two of the worlds best crack... Read more
141219
0
F ounded in 1993, Mountain Hardwear are a pretty young mountaineering clothing and equipment manufacturer but are also one of... Read more
141216
0
The release of Peter Jackson's new film The Hobbit: The Battle of the Five Armies on 12th December may not appear to link to... Read more
141212
0
---