| | |
| --- | --- |
| | / Berghaus vs Lowe Alpine Rucksacks |
This topic has been archived, and won't accept reply postings.
Our large pack was damaged whilst flying and the airline have said they will replace it. However, we have to choose between Lowe Alpine and Berghaus...

I've never had any of their bags, and in an ideal world I'd go and look at them in the flesh so to speak, but this isn't possible at the moment so thought I'd seek some opinions from UKCers before making a decision.

So, which brand would you choose? And any recommendations of models would be great (Large 70-80 + 15 litre rucksacks purely for walking, not climbing/expedition). Was looking at either the Berghaus Bioflex 70 + 15 or by Lowe Alpine the TFX Expedition 75:95 or TFX Appalachian 75:95 XL.

Anyone had good/bad experiences of these bags?

Many thanks in advance!
In reply to
tash: Hi, i have the Berghaus C7-1 65+10 (the predecessor to the Bioflex) and would highly recommend it. It has ample storage space for everything needed to do a weeks trek with wild camping and comes with a built in removable rain cover. The bioflex system works really well when you're bending and twisting on more technical bits of a walk/climb. I've used it on several treks and also when i go on holiday and never once had a problem with it so if the Bioflex is similar you're in for a treat!
A friend has the TFX Appalachian and he does like it, although he always hits his head on a bit of the metal frame that sticks out of the top but that's probably because he, like myself, is freakishly tall.
I don't think you'll be disappointed with either one of them!
Good luck.
In reply to
tash:
I'd choose Lowe Alpine over Berghaus every time. My own experiences with both brands is that Lowe are superior in terms of materials, construction and design.
Bear in mind, though, that the Lowe Alpine TFX Expedition 75:95 is designed for loads 25kg and above. Are you really going to be backpacking that sort of weight?
I would recommend Aiguille Alpine's Jorasses 75+20, my son has one and it is light, bomb-proof and very well made.
Why do you not have any choice in the matter?

In reply to
tash:
Thanks guys.
I've enquired about whether I'm able to have more choice of makes, I love the simplicity of the Aguille bag... We'll see!
Any further opinions welcome though!
---
This topic has been archived, and won't accept reply postings.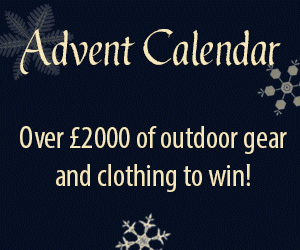 Elsewhere on the site
Tonight's Friday Night Video features the Norwegian town of Rjukan, once believed to be the home of the world's tallest... Read more
141219
0
F ounded in 1993, Mountain Hardwear are a pretty young mountaineering clothing and equipment manufacturer but are also one of... Read more
141216
0
At a bar in Llanberis an old man chimed in And I thought he was out of his head Being a young man I just laughed it off When... Read more
141203
0