| | |
| --- | --- |
| | / 89% top marks for instruction on Scottish Courses |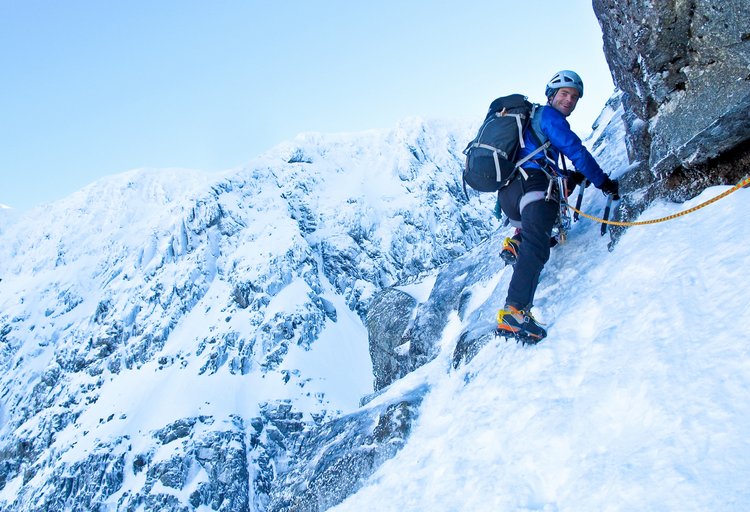 89% of Scottish Winter Courses participants gave Jagged Globe Instructors top marks in 2012!

Of the 66 feedback forms we received from 2012 Scottish Winter Courses participants, when asked "Please grade the quality of the instruction overall", 59 people graded the instruction '5' (Excellent), and 7 people graded it '4' (Good). In 2011, we achieved 92%, with 58 people grading the instruction '5' (Excellent), 4 people grading it '4' (Good) and 1 person grading it '3' (Average).
Jagged Globe Scottish Winter Courses run for 11 weeks from 13 January 2013 and are based from Ballachulish on the West Coast of Scotland.
View our 2013 programme here: http://www.jagged-globe.co.uk/course/scottish.html
Here is some feedback about our Instructors from last winter's courses:
"I had read reports of how good the Instructors were so I was expecting a lot. The reality was to prove beyond my high expectations. They were all exceptionally gifted Instructors (and great people) whose differences complemented each other very well. Sam, however, deserves particular recognition for a whole range of skills she used in developing the abilities of our small diverse group. Thanks Sam. On top of that we spent two days in the presence of Pasang, a Sherpa who has summited Everest 8 times (amongst other things) and whose family has summited Everest 49 times - Wow! Jagged Globe how did you arrange that! MG, Introductory Winter Mountaineering 2012
"I was really impressed with the enthusiasm and passion shown by Sam, Mark and Andy - our three instructors for the week. If only leaders in others professions demonstrated the same levels of integrity." AD, Introductory Winter Mountaineering 2012
"Sandy and Andy were brilliant at incorporating our wish list of items to learn into the programme, despite appalling weather which limited what we could do." SD, Winter Mountaineering 2012
"Andy provided us with some excellent instruction during a week of challenging conditions. He listened to our requests and incorporated them into the week's instruction. Information was delivered in a clear, consistent manner and was well reinforced." SP, Snow and Ice Climbing 2012
"Sam was absolutely amazing and was extremely flexible to the training needs given the changing weather conditions. Her instruction on rope work/protection and snow anchors was of the highest quality. She is an excellent instructor, a real asset to Jagged Globe!" DJ, Winter Mountaineering 2012
"Roger was an excellent guide who provided a fantastic level of detail. His enthusiasm and outstanding competence in mountaineering resulted in a very fulfilling course. He listened and understood the aims and goals of his clients and took this on, incorporating it into the weeks planning. He was very willing and able to discuss and provide advice and guidance on future trips to other destinations, drawing on his experience to make realistic suggestions to suit peoples capabilities. It was a great pleasure to be guided by Roger Mear, and was definitely a key factor in the success of my trip." AL, Winter Mountaineering 2012
"At all times I felt completely safe and confident in the instruction of Tony and Max. Jagged Globe Instructors are always excellent in my experience. They were both very patient and answered all of our questions and worked with us to achieve our goals from the course. They took care to explain their decision making and gave us lots of opportunity to begin to act independently."WN, Winter Mountaineering 2012
"I found Mungo to be excellent in all apsects of his role as a leader. He was informative and clear at all times. He listened to individuals personal wishes regarding what they wanted to get out of the week. He focused on safety, whilst pushing the pace and he delivered it all in a friendly manner that made him easy to get along with. A great guy whose passion for the mountains shone through and inspired me tremendously. A credit to your organisation." DM, Introductory Winter Mountaineering 2012
"The majority of the week I was with Mark and he provided excellent tuition on the skills that we had requested. He was very patient, and frequently ensured that we were working on areas that we wanted to over the duration of the week. Mark was excellent at ensuring we got in to good technical and safety habits, and made the week thoroughly enjoyable."DS, Winter Mountaineering 2012
"As always the course personnel were spot on in their instruction and approach. It was an extremely difficult week for all due to the poor weather which meant schedules had to be adapted. David Hillebrandt's first aid talk was excellent and is something that maybe should be considered for inclusion in one of the evening talks as knowing how to deal with a casualty if you are first on the scene is an integrale part of being able to look after yourself in the mountains. His delivery of quite a bleak subject was humorous, keeping attention throughout! Roger, Dave and Ed were excellent - all very personable, put nerves at ease allowing us each to progress at our own individual rates. Learning that Roger had achieved as much as he has during his mountaineering career is really inspiring for a newbie mountaineer. Biggest accoldade I can give your instructors is that I never consider booking with an alternative company so will be back next year - just hoping for some more snow!" SC, Winter Mountaineering 2012
In reply to
Tom Briggs - Jagged Globe:
That looks like Mr Haygarth to me!
In reply to
Andy Mountains:
Yep, photo taken by Alex Ekins.
In reply to
Tom Briggs - Jagged Globe:
We've running a prize draw with the chance to win back the cost of your course (not including our Snow and Ice Climbing week) for anyone who books before 30 November. Includes those who have already booked. More details here:
http://www.jagged-globe.co.uk/news/
---
Elsewhere on the site
F ounded in 1993, Mountain Hardwear are a pretty young mountaineering clothing and equipment manufacturer but are also one of... Read more
141216
0
Will Sim and Andy Inglis have made the second ascent of VIII,9 on Ben Nevis, followed by Will making a rare... Read more
141222
0
PowerFingers is a simple, easy to use product which is incredibly effective for Climbers who require finger strength and... Read more
141222
0
The release of Peter Jackson's new film The Hobbit: The Battle of the Five Armies on 12th December may not appear to link to... Read more
141212
0