Click to view latest messages in all forums

Premier Post - NIBL returns to the Climbing Hangar 29th Sept
by - kms
on - 24 Sep 2012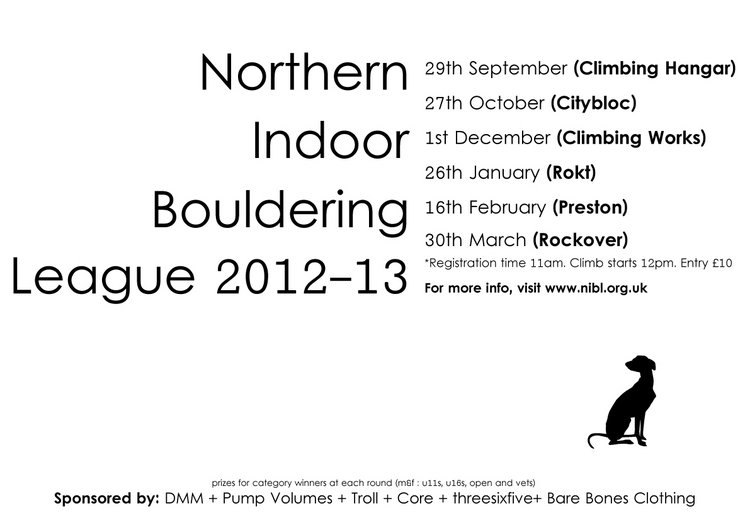 The Northern Indoor Bouldering League is back for another year travelling across the North's climbing/bouldering venues. List of venues and dates are on our poster above.

The first event starts on Saturday the 29th September at the Climbing Hangar in Liverpool (www.theclimbinghangar.com for more details) NB registration time is 12pm onwards, climbng time starts at 1pm for 3hrs. £10 entry fee, under 11's pay the Climbing Hangars' regular entry fee for that age.

30 problems to go at set by the country's best and IFSC recognised routesetters.
Prizes for the winners of the following categories at each venue: (both male and female) Juniors U16s; Open; Veterans and new for this year, Under 11's (highest scoring will win a prize from Troll UK, this category won't be part of the league table).


Loads of prizes and freebies to be had. Many thanks to our current sponsors DMM Climbing, Troll UK, Pump Volumes, Bare Bones Clothing and THREESIXFIVE.tv

2011-2012's League Champions are:

Dave Barrans - Open Mens
Diane Merrick - Open Womens
Michael Hopkins - Juniors Males
Hannah Wilson - Junior Females
Andy Farnell - Male Vets
Sian Oakley - Female Vets

Please visit out new website www.nibl.org.uk for any more info.
Become a fan of our Facebook page http://goo.gl/xt9Qw for upto date info

by - kms
on - 28 Sep 2012
In reply to kms:

1 day left before the Climbing Hangar in Liverpool hosts the 1st round of the 2012-13 NIBL

Arrived this morning are all the goodies from Core Climbing and Troll UK.

As well as prizes for the 8 categories, there are loads of raffle prizes and freebies to be had.

Registration opens at 12pm and climbing starts at 1pm for this round.
by - kms
on - 29 Sep 2012
In reply to kms:

Todays event went down really well with the Ian Vickers set given a big thumbs up. The problems range from V0-V8+ so give them a try at the Hangar.

Results should be up in the next few days, just click on www.nibl.org.uk

thanks all for taking part


by - harrytonge
on - 15 Oct 2012
In reply to kms: the highlight video from round 1 is online here http://nibl.org.uk/video_round1.php
---

[top of page] - [forums latest]