| | |
| --- | --- |
| | / ME Hardshell, Down Jacket and 2 ice screws. |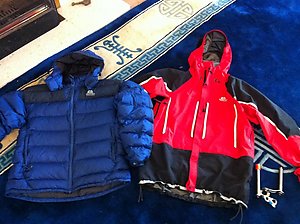 Hi,
Selling a few more items as I no longer use them and need to buy more ski related items!
Mountain equipment Kongur MRT jacket in size Large - £130 Posted.
Awesome hard shell jacket, i've used it for about 10 days in harsh conditions, and a bit more skiing and as an every day coat occasionally if the weather was bad enough. The jacket speaks for itself, 3 layer gtx pro shell, was designed specifically for mountain rescue teams so is extremely tough and durable.
Mountain equipment lightline down jacket size Medium - £80 Posted.
Still a current jacket for ME and remains unchanged, 650 loft down fill, dwr coating. Super toasty jacket. Worn quite thoroughly but has been well maintained and being washed (properly) as i write this. The stuff sack has evaded me, I will try and find it but the price as is accounts for the fact it is missing.
Black Diamond Express Ice screw 16cm - £25 posted.
Purchased as part of a crevasse rescue kit, I think I stuck in some ice once to see how it worked then it just sat on my harness for about a week. Never taken a fall, not been sharpened since i purchased it but there would be no point.
Petzl Charlet Laser sonic Ice screw 13cm - £18 posted.
Had for much longer and used a fair few times in Scotland, never taken a fall. Good condition.
Prices are posted, payment by direct bank transfer or cash on collection.
Cheers!
In reply to
HantsTom: Crikey.. Both ice screws provisionally sold as well.
In reply to
HantsTom: hi mate, does this come up a bit small, as its a size larger than your down jacket, cheers.
In reply to
fernie: No not really, the down jacket was always a bit small for me in the length and the hard shell is perfect.
Normally have layering underneath the shell but not with the down jacket. If you normally wear a large then it would be fine. It doesn't come up particularly small or large. It's just quite roomy being an outer shell.
In reply to
HantsTom: Everything now gone, mrt jacket pending payment.
---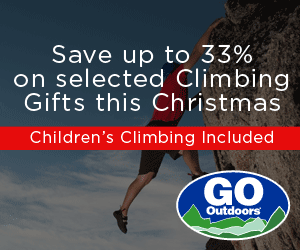 Elsewhere on the site
PowerFingers is a simple, easy to use product which is incredibly effective for Climbers who require finger strength and... Read more
141222
0
With four photos in this week's top ten, and a UKC gallery of stunning images we thought it was time we had a chat with... Read more
141203
0
F ounded in 1993, Mountain Hardwear are a pretty young mountaineering clothing and equipment manufacturer but are also one of... Read more
141216
0
Tonight's Friday Night Video features the Norwegian town of Rjukan, once believed to be the home of the world's tallest... Read more
141219
0
Perhaps the perfect Xmas gift for the climber in your life... Wild Country's Crack School has two of the worlds best crack... Read more
141219
0