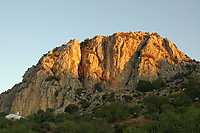 Its Mel at The Olive Branch in El Chorro responding to lots of emails asking about the recent floods in Alora and road access through Alora and into EL Chorro.
We can confirm that the roads were not affected and are clear so there is no problem getting from Malaga to El Chorro by road or train.
There is one back road from El Chorro towards Valle de Abdalajis and down to Alora that collapsed 2 years ago and still hasn't been repaired. There is a photo of this road that has been circulating.
Desplomilandia is also still open currently and people are climbing there.
The floods in Alora are in the barriada (village) behind the train station which became completely submerged after the river broke its banks and tore away an 80 year old Iron Bridge. Residents had to climb on to their roofs and into trees to be rescued, one was our friends mother! Sadly 2 people died and many have lost their homes.
Friends of ours in the next village on the Abdalajis road, Las Angosturras, were also flooded. The Arroyo behind them broke its banks and a boulder became lodged in just the right position to divert the river down through a group of 6 houses, 2 of which are our friends. They are now buried under 3 feet of water, mud and rocks. Its horrible to see the damage, you don't realise how devastating it is to lose everything until you see it. Our thoughts go out to everyone. Mel and Gary The Olive Branch Guesthouse El Chorro