Click to view latest messages in all forums

Premier Post - Wintergear NepalExtreme-G14-Taakoon-Touring setup
by - feckinlovebbq
on - 02 Oct 2012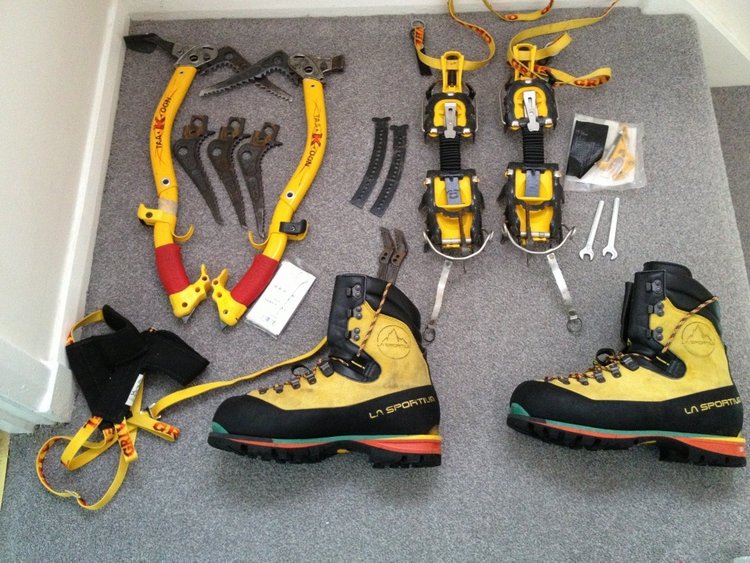 All prices are for items posted. More pictures in the photo bucket album here sensible offers considered http://s606.beta.photobucket.com/user/jcf84/library/Climbing%20Gear


**Full touring set up £500**
Barely used few superficial marks Only selling cause I'm going back to a split board. Touring skis tour better but every time I get to the top I wish I was on a board. No pictures as they are stored at my parents house at present will get them out this week and get pictures
Black diamond verdict skis 180cm
Marker Barron Bindings
Black diamond Guide lite mixed hair skins

**La sportiva, Nepal Extreme size Eu 42 £190**
Used for a couple of weeks in Norway.Pretty much as new condition.

**Grivel G14 crampons £110**
set up as mono points so the spare points are unused weill also include the kit to swap them to GSB fittment.

**Grivel Taakoons pair. £170**
2 mixed picks
2 leashes unused
3 cascade picks 1 unused, 1 barely used, 1 tiny bend in it can be bent back and would work fine.

by - AndyCook
on - 02 Oct 2012
In reply to feckinlovebbq:
Hi, are the axes still available? Cheers
by - robric
on - 04 Dec 2012
In reply to feckinlovebbq: YHM regarding touring kit...
---

[top of page] - [forums latest]