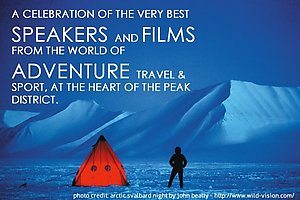 The UK's newest adventure festival kicks off on Saturday 20th October at the Pavillion Arts Centre, part of Buxton Opera House (Peak District)
The festival programme of ten illustrated lectures followed by short films will be packed with speakers from the world of adventure, travel, photography and sport.
The weekend feature mountaineer/paraglider Squash Falcolner who climbed Everest and was the first British woman to paraglide from the top of Mont Blanc.
There'll be talks from internationally renowned travel photographer John Beatty and writer Gordon Stainforth who'll be talking about his latest book 'Fiva: An Adventure that Went Wrong' which has just been short-listed for both the Boardman-Tasker and Banff Mountain Literature awards, followed by a chance to see '50 Years in the Mountains' and 'Samsara' with Conrad Anker, Jimmy Chin and Renan Ozturk.
Other speakers include 2011 downhill mountain bike World Champion Danny Hart; and the Queen's Olympic Opening Ceremony stunt-double Gary Connery who this summer became the first person to jump from a helicopter without a parachute, as well as Richard Askwith, author of cult fell running book 'Feet in the Clouds'; Director of the Outdoors Swimming Society, Kate Rew; and award-winning cave-diver and film-maker Gavin Newman.
And on Saturday and Sunday mornings they'll be two special Young Adventurer sessions followed by an afternoon of activities.
www.buxtonadventurefestival.co.uk
Tickets £10 (students & under 16s £5). Multi-session saver discounts & family tickets available.