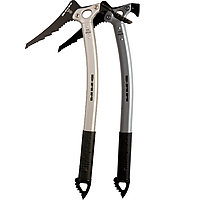 DMM Fly Axe and Hammer - Pair Deal
OK, so the new Fly's from DMM are out and available to buy now, however if you want a real bargain we are clearing all the old Fly axes at a great deal. Available only while stocks last.
RRP £240/Pair. Our price is only £165/Pair and includes leashes!!
http://www.joe-brown.com/outdoor-equipment/dmm_fly_axe_and_hammer_pair_deal
Offering great value as an all round technical tool, the DMM Fly is THE benchmark all rounder, at home on steep ice, Scottish mixed or Alpine summits.
The DMM Fly features a curved upper shaft for clearance combined with a straight lower shaft, making it suitable for use on alpine and mixed terrain as well as more technical situations such as steep mixed and ice routes. It really is a superbly versatile tool; light and well balanced, and consequently it remains as one of our top selling technical winter tools.
Supplied with a choke hold leash and a T pick as standard although B type picks are available.
Extra Notes: From the 05/06 winter season DMM changed the head bolts. The DMM Clipper Leash system does not fit the current DMM Fly however some older models fitted with hollow rivets will. Please contact us if you are unsure.
DMM Fly Axe/Hammer Specifications....
•Axe Weight: 685g
•Hammer Weight: 680g
•Length: 50cm