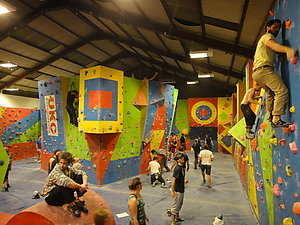 Winters coming and here in Awesome Walls Stoke we're ready for your training needs at our dedicated bouldering centre.
As well as the usual ply to throw yourself on/off we have a mega roof area (largest in the UK?) dedicated training area with pull-up bars, dip stations, fingerboards, Moon board plus much more.
All problems are set in circuits and are changed on a 4-6 week basis.
We DO NOT charge a membership fee, standard adult entry is only £7.00. A full price list can be found here-
http://www.awesomewalls.co.uk/climbing-centres/stoke/stoke-overview-page
We now have a bean-to-cup coffee machine to give you coffee lovers a real buzz.
Regular news and updates are posted on our website-
http://www.awesomewalls.co.uk/
and Facebook
http://www.facebook.com/AwesomeWallsStoke
Awesome Walls Stoke-on-Trent is conveniently situated just off the A50.
Any questions please phone 01782 341919