View latest messages in My Forums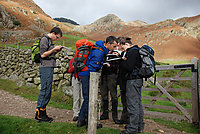 Apex Training
has the following Mountain Leader courses running in 2012
ML TRAINING
- £450
28th October to 2nd November

18th to 23rd November

ML ASSESSMENT - £460

28th October to 2nd November

18th to 23rd November

Course prices include food and accommodation

Dates for next year can be found here and prices remain the same as 2012:
http://www.mountainleadercourses.co.uk/mountain-leader/mldatesprices.html

Further details about the courses can be found here:
http://www.mountainleadercourses.co.uk/index.php
The home page is kept up to date with available places.

Contact us
office@mountainleadercourses.co.uk
Online booking form - http://www.mountainleadercourses.co.uk/mountain-leader/online-booking-form.html
Mobile - 07709571282 (Paul Platt)

Testimonials
Just a quick thank you for yours and Neils knowledge and expertise last week on the ML training course i attended. I have attended many courses over the last 20 years but can honestly say this has been the most rewarding and enjoyable of them all! It has been a steep learning curve but the whole experience has enthused me to put the hours in and get qualified!
Thanks again

The staff at APEX were fantastic,their experience combined with their training and love for the mountains allowed not only myself but everyone else on the course to have a truly inspirational and rewarding experience.

Had a great week on the July 2011 ML(S) assessment following the training in March. Quality instruction from Neil and Simon who challenge your thinking and demand high levels of skill while at the same time supporting your learning and development. Anybody out there considering outdoor pursuits training should look no further than Apex/Ascent.


---
My Forums