| | |
| --- | --- |
| | / audio voyage through Dinorwig Quarries |
This topic has been archived, and won't accept reply postings.
'In Slate's Hands', first published by Ground Up in 'Llanberis Slate', has now been audio-recorded on location and worked up into a sound-enhanced poem, including ambient slate clatter and bangs and the quarries' eerie hydro-turbine hum. This piece is designed to be listened to through headphones. It is dedicated to all those who have worked with SLATE, and to all those who play with SLATE, but mindfully of the work that has gone on before.
http://snd.sc/OTqTn9
In reply to
Krama Woodgin: Thanks for sharing this, I was shocked when I first opened the new slate guide to find that a poem had been written about me (well part of a poem anyway!)...and to hear this the audio version is just superb :-)
In reply to
ian Ll-J: Thank you, Ian. Pleased that you like it. The poem has been in the writing for years. Jim Perrin when he first saw it, getting on for 20 years ago now, when I was just starting out, he said I was best to put it to one side for a while - it needed a lot of work, and time to settle. It was meeting you in the quarries that finally finished the poem. It was a very brief meeting, but the quiet yet impassioned way you spoke about what you'd been doing that day, and the way you mentioned your grandfather were inspiring. So, it is not only that the last part of the poem is about your presence in those quarries, but it is also because of you and very much informed by your creative energy.
And I am so pleased the poem has connected with you as it has - publishing and stuff can have its rewards, but simply knowing I've managed to write a poem that connects as it has is most rewarding.
Kind regards, Mark
In reply to
Krama Woodgin:
Hi Mark
Didn't realise you were 'Krama Woodgin' with my first post!
Yes the poem certainly made a big connection. I know we had a brief chat / meeting in the quarry once but still can't work out where or when?
Have you had a good response from others to the poem and the audio version?
In reply to
Krama Woodgin: Cheers for this. I own no headphones but I'll cadge some shortly.
In reply to
Krama Woodgin:
Hi Mark
Is there any way of getting this onto my iPod / iTunes from Sound Cloud?
Ian

In reply to
ian Ll-J:
Hlo Ian! Yes, I've actually had quite a few people listen to this, and some good comments.
We met in the quarry at least a couple of years ago now, I would think. My partner and I were with Johnny Dawes at the time, although Johnny, being the chameleon he is, wasn't sure that you had recognised him. You'd actually been cleaning and bolting some easier lines. We met right next to the disused quarry buildings (old dressing sheds?) just before Dali's Hole.
If you go here you can see my fizog, which might help to jog:
http://www.shearsman.com/pages/books/authors/goodwinA.html
Kind regards, Mark
---
This topic has been archived, and won't accept reply postings.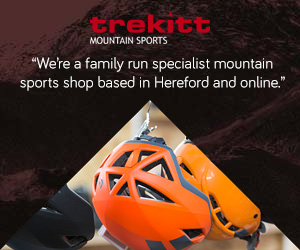 Elsewhere on the site
The release of Peter Jackson's new film The Hobbit: The Battle of the Five Armies on 12th December may not appear to link to... Read more
141212
0
Rock shoes stink – let's face it. Boot Bananas are the perfect way to fight the funk and keep them fresh. They help... Read more
141219
0
Perhaps the perfect Xmas gift for the climber in your life... Wild Country's Crack School has two of the worlds best crack... Read more
141219
0
F ounded in 1993, Mountain Hardwear are a pretty young mountaineering clothing and equipment manufacturer but are also one of... Read more
141216
0
Tonight's Friday Night Video features the Norwegian town of Rjukan, once believed to be the home of the world's tallest... Read more
141219
0
---