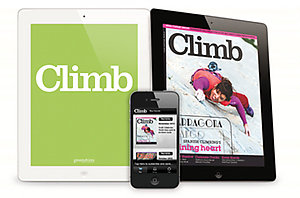 The latest edition of Climb Magazine is now available in the Apple Newsstand, download it NOW!
The November issue of Climb Magazine is now out in both paper and digital forms. This digital edition includes an Editor's Note podcast, a film of Nick Dixon's monster fall and E9 first ascent at Nesscliffe, an exclusive gallery of extra images of Italy's crack climbing paradise, Cadarese, and a jaw-dropping video of Iker Pou pushing his tendons to the limit on one of Spain's hardest routes.
All this, plus the great features from the printed edition for just £2.99 – download your copy today!
Get hold of it now!
http://itunes.apple.com/us/app/climb-magazine/id537987175?ls=1&mt=8
Take further advantage our great subscription rates and save over £18!*
SUBSCRIBE NOW FOR ONLY £28.99
If you haven't already done so – download the Climb Magazine App today for free!
Once downloaded you will be able to purchase single issues or take advantage of our fantastic subscription offers. Also to continue the celebration of our digital launch, we will be adding another back issue to download for FREE very soon.
Sign up for our push notifications to ensure you don't miss any issues or offers.
For more information please visit
http://www.climbmagazine.com/digital
Next Issue - December 2012 out 8th November 2012
Featuring;
Shadowlands - Images from climbing's dark side by our leading photographers
North York Moors - Yorkshire's best kept secret
Sinai Desert - Granite trad above Egypt's opium fields
Portugese Sea Cliffs - The Algarve as you've never seen it before
*based on UK high street newsstrade cover price