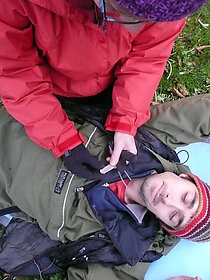 16-hour Rescue Emergency Care First Aid course is ideal for your MLT, BCU or RYA qualifications.
Aimed at Adventure Sports and Outdoor Pursuits instructors and enthusiasts alike.
Venue: Bangor, North Wales.
Dates: Saturday 10th November and Sunday 11th November 2012.
Price: £100.
You will receive your
Certificate valid for 3 years
through the post within 3-4 weeks. If you need a certificate of attendance, I can provide one.
Comment posted on UKC (Tues 15th Nov 2011) by a student from one of my YFA courses:
'I did this course (2-day Rec Emergency First Aid) with Rocio Last month and it was a very good course and great value for money. Lots of discussion on Real life situations and 'making do' with equipment you already have in your bag, making it an Ideal course for working in the outdoors. I Highly recommend it,'
Matt

Thanks Matt!
Description:
On the first day we cover remote first aid protocol, head injuries, severe bleeding, hypothermia, CPR and the use of AEDs; second day on we'll look at breaks, sprains and strains, dealing with multiple casualties (triage), common illnesses, etc. All courses are practical in nature so we'll be going outside and dealing with first aid scenarios. We only look at using things that you would carry with you, so we improvise with the equipment we've got.
About me:
I'm an active climber and mountaineer. I teach a no-nonsense approach to first aid on the hills, emphasising on common sense solutions with the little kit you have with you. Check out my
ascent of the North Face of the Matterhorn
July just gone on Ibex Mountain Guides facebook page. To find out more about me go to my website:
www.youngfirstaiders.com
or check out the photos and
video of a rescue I took part in last January on the Vagrant
posted on my Young First Aiders facebook page.
Further dates in 2012: December Saturday 1st and Sunday 2nd 2012.
The rest of the year I'm busy climbing, instructing or guiding so I only aim to deliver first aid courses in the Autumn.
CONTACT: info@youngfirstaiders.com or 0793 993 1597