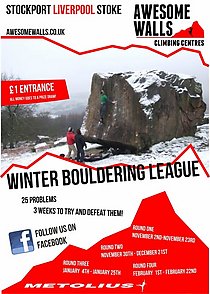 Dear Brothers and Sisters of Awesomeness,
So its winter again, the clocks have gone back, the weather's getting colder, the days are getting shorter and it's the return of the
Awesome Walls Winter Bouldering League
.
This Winter season four rounds will be held simultaneously at
AWCC Liverpool, Stockport and Stoke
.
Round One 2nd November - 23rd November 2012
Round Two 30th November - 21st December 2012
Round Three 4th January - 25th January 2013
Round Four 1st February - 22nd February 2013
There will be
25 Awesome problems
to pit your strength and cunning against with the chance to win prizes from
Metolius and Awesome Walls
.
Entrance is
ONLY £1
per round!
There will be four categories to give everyone a better chance of a podium position - Male, Female, Junior (under 16), Senior (over 55). With prizes for 1st, 2nd and 3rd place.
All entrance fees will be put into a secure holding pot to be raffled with Awesome Walls Passes at the end of the league. Score cards must be returned to be in the raffle!
There will be four special prizes for the highest scorer in the Male, Female, Senior and Junior categories that visits and compete at all three Awesome Walls Climbing Centres!
Stay psyched, stay focused and be strong...
Team Awesome Walls
Liverpool/Stockport/Stoke-on-Trent/Dublin/Sheffield(2013)
http://www.facebook.com/AwesomeWallsSheffield
http://www.facebook.com/AwesomeWallsStockport
http://www.facebook.com/AwesomeWallsLiverpool
http://www.facebook.com/AwesomeWallsStoke
http://www.facebook.com/AwesomeWallsDublin
PS- Have a few freebies on us here
http://awesomewalls.co.uk/offers/this-months-vouchers