| | |
| --- | --- |
| | / Climb Toubkal (6 days) - £360 |
Back by popular demand:

Winter Mountaineering in the High Atlas Mountains (Morocco)

Departures: November, December, January, February, March, April

Cost: £360 (2 people min). Price includes all land transport, all accommodation and all meals on-the-hill, all communal equipment, a professional English speaking mountain guide and assistant, a cook, a driver, mules and muleteers.

Flights are not included in the price (you can usually get to Morocco for less than £200 on a budget airline).


Programme:

Day 1: Arrive in Marrakech. You will be met by the guide at the airport and transferred to Imlil.
Day 2: Trek from Imlil to the Neltner Refuge.
Day 3: Options. 1. Acclimatisation trek to Tizi n'Ouanaomuss. 2. Head for the twin summits of Ounakrim Ras and Timesguida.
Day 4: Toubkal ascent.
Day 5: Walk back to Imlil. Return to Marrakesh. Tea and medals.
Day 6: Return home

More information at www.gorillamountaineering.co.uk

In reply to
THE.WALRUS: Do you a swap for a week up here?
In reply to
THE.WALRUS
Sir
Were you not worried about the possible risk of frostbite to your genitals at such high alitude.
You should all have been equipped with XS willy warmers.
Be warned.
In reply to
Mike Lates:
Tagine for Haggis? Sounds like a great swap, Mike...
In reply to
Albert Tatlock:
Nonsense, Sir!
Go for the Scott/ Haston approach and stuff the Old Chap into the nearest available armpit if it starts getting chilly.
Works every time and saves on the expense (and weight) of an extra small 4-season member warmer.
In reply to
THE.WALRUS:
Sir
The technique you describe is known as " Bagpiping ", to ignore the pink and brown and shove the cue staight in to the top corner pocket.Such techniques have no place in modern mountaineering.
Your film recording of the ascent should be retitled " Brokeback Mountain "
Take heed young man.
In reply to
Albert Tatlock:
Dear Boy,
I appreciate that back in your day, it would have been considered sporting to lose the old chap to frostbite without so much as a wobble of the stiff upper lip....but things have moved on since then.
The modern mountaineer believes that preserving his manhood from the perils of high altitude and extreme cold is something of a priority - and if that means bagpiping your chums armpit, so be it.
I hope this clears up any confusion.
In reply to
THE.WALRUS: I'm tempted to book, purely for the giant coke bottles the locals had! Sweet Jesus, that would go with my Xmas Jaffa cake box. In addition please book me on the naked lady version, oh and do I have to wear a monkeys face over my halligan?
---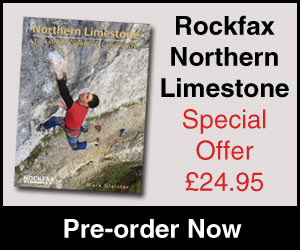 Elsewhere on the site
At a bar in Llanberis an old man chimed in And I thought he was out of his head Being a young man I just laughed it off When... Read more
141203
0
F ounded in 1993, Mountain Hardwear are a pretty young mountaineering clothing and equipment manufacturer but are also one of... Read more
141216
0
Perhaps the perfect Xmas gift for the climber in your life... Wild Country's Crack School has two of the worlds best crack... Read more
141219
0
Tonight's Friday Night Video features the Norwegian town of Rjukan, once believed to be the home of the world's tallest... Read more
141219
0
Rock shoes stink – let's face it. Boot Bananas are the perfect way to fight the funk and keep them fresh. They help... Read more
141219
0
---