| | |
| --- | --- |
| | / The Depot - Nottinghams new bouldering centre |
This topic has been archived, and won't accept reply postings.
Im going to pay this place a visit tomorrow - anyone been yet?

If so, what's it like for kids as I want to take my 11 year old girl and get her in to bouldering and so I want to make sure that if she goes with me, there are plenty of routes for kids.
In reply to
TheDrunkenBakers:
I haven't been but I have heard that there are a lot of angled walls rather than flat walls and therefore many overhanging routes although there are often big jugs.
In reply to
TheDrunkenBakers: I can confirm that I have been twice this week.
Report:
Large old converted victorian building (covered in tiles in many places) which has the feel of an old swimming pool but the size and shape suggest that it wasnt. Decent parking about a minutes walk away from the venue. Located just outside Nottingham's city centre so you will ave to compete with city centre traffic at peak times.
The routes are on three sizes of a very long rectagular shapes space with lots of flat, angled nad overhanging sections. There is a central 'island' too with various flat, overhaging and a slabby section. There is also a short traversing section which can be used for warm up or childrens space for the very little ones. All matting is well laid out and nicely padded and there is a fingerboard training area.
Routes are arranged in colours; purple, blue, red, yellor and white respectively with the whites being hardest. V0 to V8/9 with plenty of each colour although I wish they would have been more specific as each colour has a small range of difficulties.
There are two seating areas, a reasonably stocked cafe section with hot and cold drink and a small shop with shoes and clothing. Toilets are so far well maintained and clean - it is new so lets see how well this continues - and there is a free locker service although this is run on a key for a key basis with the car keys being placed on a hanger behind the counter. i feel a bit uneasy about this as i dont thik it would take much for a sneaky thief to get his/her hands on the keys; this isnt very secure in my opinion and needs looking at.
Cost is reasonable at £7 per member £8 non member and £3.00 membership fees.
Overall, I really like the place. Decent costs, parking and large route selection and places to sit. As the place has only been open a month or so it was too busy and i went a peak times. I hope it stays clean and well maintained.
Apart from the locker situation a good 7-8/10 and it will be good to rotate between my usual wall and the Depot.

In reply to
TheDrunkenBakers:
Must have been at a different wall to me: all the colours had a good range according to me and my mates who've climbed nearly all the problems between us. Only initial problem from feedback was the blue had too many hard problems (not enough to get on after you finished purple) and they fixed that. As for suitability for kids they need to be OK on slightly overhanging walls... not many slabs and vertical sections.
---
This topic has been archived, and won't accept reply postings.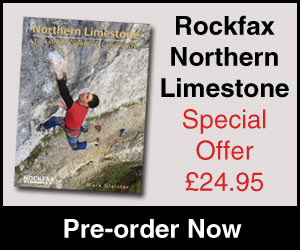 Elsewhere on the site
Perhaps the perfect Xmas gift for the climber in your life... Wild Country's Crack School has two of the worlds best crack... Read more
141219
0
With four photos in this week's top ten, and a UKC gallery of stunning images we thought it was time we had a chat with... Read more
141203
0
Tonight's Friday Night Video features the Norwegian town of Rjukan, once believed to be the home of the world's tallest... Read more
141219
0