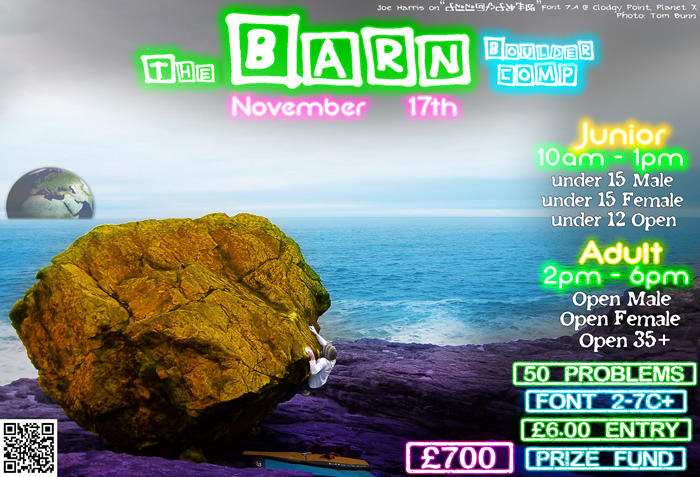 Join us on November 17th for the first of our legendary Winter Season Barn Boulder Competitions!
The single day competition is always an amazing event, with climbers of all grades competing in
6 different categories
for some of the best prizes from The Barn's Gear Shop.
The Comp is all about the flash, scoring 10 points for a flash, 7 points 2nd try, 3 points 3rd try and 1 point for 4 tries or more.
All levels of climbers are welcome to compete with a wide range of grades between
F2 and F7c
over
70 Problems
, A massive prize fund of
Over £700
and only a
£6.00 entry fee
you are guaranteed an atmospheric day whether you are competing or not.
Keep refreshed with our fully stocked Cafe which includes Fresh Coffee, Tea/ Herbal Tea, Milkshakes, Soft Drinks and Hot & Cold food.
You can also fill your gear needs in our on-site Gear Shop
(
http://barnclimbinggear.co.uk
)
Junior Categories - 10am - 1pm:
Under 15 Male
Under 15 Female
Under 12 Open
Adult Categories - 2pm - 6pm:
Open Male
Open Female
Open 35 Yrs+