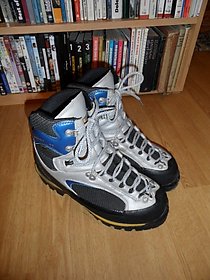 I'm reluctantly selling these boots as they're not the right shape for my feet. They've been used for 5 days icefall climbing in Italy and one Winter walk/climb in The Lakes. Never seen any grass let alone mud hence described as "virtually as new" - see photograph.
They were £300 and still being advertised new for around £250 - £299. I'm hoping you'll think half price is fair so looking for £125 for them. Postage (according to website postage calculator) will be £8.80.
In reply to
Martin Bennett: what is your usual shoe size, just trying to find out how they come up?
In reply to
fernie:
Hi - UK9 I'd say - quarter or half size too big for my 8.5 requirement, hence reluctant sale - they're beautiful boots. More photos available if you send me your email address. I've sent you an email too. Cheers. Martin
I'll take them for £100? 108.80 incl postage?
In reply to
arch the parch:
Sorry, got a better offer.
Boots now sold