Click to view latest messages in all forums

Premier Post - La Sportive Trango Extreme Evo L Gtx - Size 44
by - Peter Rhodes
on - 20 Nov 2012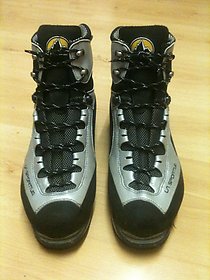 La Sportive Trango Extreme Evo L Gtx - Size 44.

Almost as new!!

They were used for 3 indoor dry tool comps so have never been in the hills or on rock/ice. The edges are as new and there is very very minor scuffs on the toe rand. They are still just as stiff as new and basically no sole wear.

I have more photos available if you need, just leave a message or email me.

£210 posted ono.

Here is a link to the spec : http://www.lasportiva.com/mountain.html?&L=1&tt_products%5Bproduct%5D=44&cHash=02c632a63...
by - Peter Rhodes
on - 27 Nov 2012
In reply to Peter Rhodes: Sold thanks
---

[top of page] - [forums latest]