| | |
| --- | --- |
| | / Far west Cornwall, April 2013 |
This topic has been archived, and won't accept reply postings.
Hello all,
Do you know of any venues that will suit me (leading S - VS, but will second E2) and him - likes safe/hard E3/E5 depending on rock type, and doesnt mind abbing for gear.

Are there any venues to suit us both or is a day about the better option? Havent looked at guidebooks yet and the plethora of crags on the database is hard to get a grip of.

Exciting, never climbed on cornish granite before :)

Cheers

In reply to
goosebump:
Virtually every major crag has excellent routes from Diff up to E8. Most popular are Bosigran Main Face, Sennen, Chair Ladder and Carn Barra, but there's loads more, all in the CC West Cornwall Guide. Doorpost at Bosi at HS is next to a bunch of extremes and the main crag is non-tidal. Ditto Sennen, And while you're there sample the greenstone of Gurnard's Head and Kenidjack.
Bosigran would fit the bill for you both. It's non tidal and faces West so catches the sun from midday.
Raven wall and Kafoozalem in the E3 range could be abbed down to get the gear
Doorpost / Little brown jug / Ding in the HS/VS range

Chair Ladder is tidal. Classics like West Face direct (E2) and Pegasus (HS) are right next to each other, and also Bishop's rib (E1) and Diocese (VS) next to each other. All multi-pitch and abbing wouldn't be that easy.

Sennen is also tidal, mostly single pitch and all of it is abbable for gear, Samson arete (E2) and demo route (HS) are particularly good.

If you're lucky with the weather April is a great time to be down here

In reply to
Iain Peters:
Hi Iain,
You highlight my difficulties - theres too much to go at! We have two weekends, so Im keen we limit the time dodging between venues.
In reply to
gowla:
You have the measure of the kind of climbing partnership we make - thanks for a really good response. Will check all these out.
Im really excited about the visit - last time I was anywhere near was as an 18 year old, with a bunch of mates on a boat we chartered. Looking back Im amazed we got away with it. My experience of the "far west" is limited to Newlyn Harbour, the Scilly Islands (not sure if they count?) and the sea in between. Cant wait to explore the land.

In reply to
goosebump: At Gurnards Head, you have Shark (E1) right next to Tropospheric Scatter (safe E4) with Right Angle (HS) nearby. Need low tide for the first two.
What about Pordennack? Cain and Immaculate Arete are both safe E3 and E4, and there's Zekes Route, Nut Route and Green Face (all HS, the last non tidal}
At Land's End, Day Tripper E4 is near Cormorants Slab (S) and Cormorants Bill (HVS). The first is a single pitch to lower off a fixed rope.
Can Barra has loads to suit you, also Sennen and Bosigran as mentioned earlier.
Have a great trip!
---
This topic has been archived, and won't accept reply postings.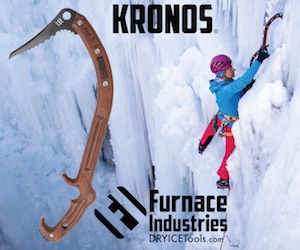 Elsewhere on the site
Rock shoes stink – let's face it. Boot Bananas are the perfect way to fight the funk and keep them fresh. They help... Read more
141219
0
F ounded in 1993, Mountain Hardwear are a pretty young mountaineering clothing and equipment manufacturer but are also one of... Read more
141216
0
Tonight's Friday Night Video features the Norwegian town of Rjukan, once believed to be the home of the world's tallest... Read more
141219
0
At a bar in Llanberis an old man chimed in And I thought he was out of his head Being a young man I just laughed it off When... Read more
141203
0
Perhaps the perfect Xmas gift for the climber in your life... Wild Country's Crack School has two of the worlds best crack... Read more
141219
0