Click to view latest messages in all forums

Premier Post - Font & Kalymnos Coaching Holidays 2013
by - Adrian Berry
on - 27 Nov 2012 - www.positiveclimbing.com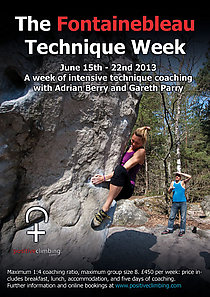 In 2013 Gaz Parry and I will be running two coaching holidays for climbers keen to make rapid gains in their climbing. The trips are aimed at capable, motivated climbers who like to push themselves, and like to be pushed.

The Fontainebleau Technique Week

June 15th to 22nd 2013 - £450

Spend a week with us on the sandstone boulders in the Forest of Fontainebleau where, through group workshops and 1:1 coaching, we will work through the technical skills required to move efficient and securely over rock. There is a strict limit of 8 in the group in order to ensure the amount of personal attention we can give. The price includes gite accommodation, breakfast and lunch when we're out in the forest. All abilities welcome.

NB: The March Font trip is fully booked, but places are available on the trip we're running in June.

Full information and online bookings at:
http://positiveclimbing.com/climbing_coaching_holidays/fontainebleau_coaching_holiday.html

The Kalymnos Workshop

August 31st to September 7th 2013 - £550

The fabulous Greek island of Kalymnos is our base for this week in which we will will examine the physical and mental sides of the sport climbing game. Each coaching day revolves around a theme and includes two workshops. There will be ample opportunity throughout the week for 1:1 coaching. The price includes very high quality studio accommodation. You need to be able to climb safely without supervision, and we strongly suggest you are climbing at least French grade 5 to get the most from this trip, there is no upper grade limit.

Full information and online bookings at:

http://positiveclimbing.com/climbing_coaching_holidays/kalymnos_coaching_holiday.html

For each of these coaching holidays we strongly recommend booking early to avoid disappointment, places are limited and the trips are usually full months in advance.
---

[top of page] - [forums latest]