| | |
| --- | --- |
| | / Ice axe and ski pole mount for camera? |
This topic has been archived, and won't accept reply postings.
Hello,
Anybody know of a simple ice axe or ski pole mount for a camera? I like trying to get evening shots of torches on routes and would like a simple clip for an axe or pole that could be easily removed so it doesn't get in the way (but is tiny and light.) Something like this, but without the need for the screwdriver:
http://www.newschoolers.com/ns/forums/readthread/thread_id/607366/
A ball mount would be handy on the end of the 1/4" screw to allow angles to be changed as well...
In reply to
jonnie3430:
For an axe, depending on what's going on on the axe head, you might be able to just fix a 1/4" screw through the axe permanently and then screw a little ball head on when you want. That's what I did on a Grivel Matrix Light hammer. Not sure if I have any handy pics of mine though.
here is a generic pic of the hammer
http://d176nk147hpzpn.cloudfront.net/c/cragx/images/products/large/8152/1/6642_MatrixLightAxe.jpg
I used the hole toward the hammer end. Two rubber grommets, a 1/4" screw (make sure it is 1/4" UNC - the thread pitch does matter!), and plenty of glue AND a couple of washers and a nut.
This ball head
http://www.amazon.co.uk/Hama-Ball-Socket-Head-38mm/dp/B00006JCPK
Here it is in action
http://www.flickr.com/photos/blue-straggler/6873239542/in/set-72157629311676410
I did it this way because I wanted to be able to mount a camera on the axe head and even try self-portraits while climbing (with remote release), which didn't work at all, but it was neat enough as a lightweight monopod as seen in my pic.
However mine has limitations, as you can see, the ball head is mounted "horizontally" so you need to work around that constraint, and there is no quick release - got to screw the head onto the axe and then screw the camera onto the head. A head with a QR plate would be too bulky for what I'd wanted to do.
In reply to
jonnie3430:
You can buy some flimsy looking and IMHO overpriced things for bike handlebars, for vain cyclists who want to photograph themselves gurning in Lycra on hill climbs. They might clip easily to an axe shaft or a pole.
In reply to
Jonay:
I like the look of the ultra pod mini, reducing weight as much as possible is high on the list for something that will get carried around a lot!
---
This topic has been archived, and won't accept reply postings.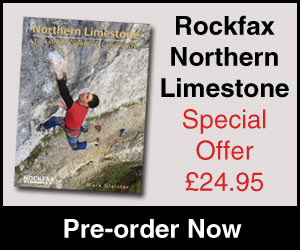 Elsewhere on the site
F ounded in 1993, Mountain Hardwear are a pretty young mountaineering clothing and equipment manufacturer but are also one of... Read more
141216
0
Perhaps the perfect Xmas gift for the climber in your life... Wild Country's Crack School has two of the worlds best crack... Read more
141219
0
Rock shoes stink – let's face it. Boot Bananas are the perfect way to fight the funk and keep them fresh. They help... Read more
141219
0
Tonight's Friday Night Video features the Norwegian town of Rjukan, once believed to be the home of the world's tallest... Read more
141219
0
With four photos in this week's top ten, and a UKC gallery of stunning images we thought it was time we had a chat with... Read more
141203
0