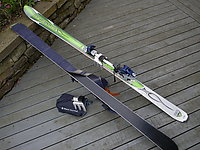 Ski Touring Kit
Rossignol B3 Skis, 184cm, 120-83-110 with Diamir Fritschi ski touring bindings (4 years old) all sound and in good condition.
Fritschi crampons and Black Diamond Guidelite Mix STS fitted skins (almost new, used 3 days only)
photos available, collect Cheshire or Derbyshire. £350
hey any chance of any close up shots of the ski base and bindings?
many thanks
joshua

In reply to
chilton: I have messaged you but not sure if you received it? Can you send pics to leehermon@hotmail.co.uk please
In reply to
josh1905: please send me an e-mail then I can send you a photo, not sure how to do it within the forum
In reply to
leeoftroy: ok, I did reply but will now send pics
In reply to
chilton:
Hi. I'm also interested. If you could mail details to mapsinclair@gmail.com?
Cheers