| | |
| --- | --- |
| | / Best/Cheapest way to book a 4 stop flight... |
This topic has been archived, and won't accept reply postings.
I'd like to book the following flight for two people:

Leaves UK (ideally Manchester) to San Fransisco in late August.

San Fran to Buenos Aires at the start of November.

BA back to UK the just before xmas.

(Once in Argentina I'll need a further flight from BA to El Calaafate, but I presume it will be easier to organize this separately, leaving plenty of to make the connection (e.g. two or three day partying in BA!).

I'm not bothered about stop offs, but I will need 2 hold bags as between my friend and I we will have big walling, alpine climbing and camping gear.

Any idea how much this sort flight should cost and the best way to book it?

Cheers,

Tom
In reply to
Captain Gear:
Look at where the BA flights go via in the states. There is a high chance of changing in Miami, Texas, NYC etc. You might find it cheaper to do a stopover there getting an internal flight to san fran. I generally found it cheap and easy to organise internal flights in South America while over there outside of busy times.
Phil
In reply to
Captain Gear: Have a look at comapnies specialising in RTW (round the world) flights. SCA is a start but there are cheaper.
The price varies on stop-overs, but was about £1000 for 4 stops when I last looked (a while ago now though!).
A general search of RTW and Gap Year flights should set you in the right direction.
Also, if you want travel insurance, woth looking at backpackers insurance as this is cheaper for long trips/multi-stop travel.
Hope that helps, enjoy!
In reply to
Martin1978: Oh, forgot to mention, quite a few hotels in Peru at least (and India) let you leave bags there until you return if you stay with them each time. Obviously take something like a North Face duffel and lock it closed and to something in the store room. Other travellers are not always as honest as you would hope :(
In reply to
Captain Gear: Try skyscanner.net or kayak.com.
IPP
A few options.

1. Book an open jaw (into one airport and out of another). Upside: British Airways fly directly to both San Fran and Buenos Aires (as do Air France and KLM), so this should be easy and relatively cheap to book. The connecting flight from MAN will probably be reasonable. Downside: you have to book the San Fran-Buenos Aires flight separately. This might have an impact on your baggage allowance.

2. Book a multi-stop itinerary. (Try it once starting from London, and once from MAN.) Yours is relatively simple as far as multi-stops go. Have a look at the Buenos Aires Wikipedia page, to find who flies there. If you can keep your flights on once Alliance, so much the better. Most of the booking sites (Expedia, Travelocity etc) have this option, but also try on the individual airline websites in case something different turns up.

3. Travel agent. May be able to get you a fare which includes higher baggage allowance. (Worth a shot)

Whatever you do, wait until at least January before you book. Not all airlines have their fares and schedules loaded that far in advance. (I'm not saying January is the time to book, just January or later!)
Oh, I forgot:

4. Book one set of return flights to and from a US Gateway city, such as New York, Dallas, Miami, Chicago. Then a second set of return flights from that city to Buenos Aires, with a stopover in San Fran on the way out. The downside of this is that you have to leave room for delays twice.

In reply to
Richard Alderton: Cheers.
Any more tips?
Does £1500 seem about right for UK-California, California-Aregentina, Argentina UK?
---
This topic has been archived, and won't accept reply postings.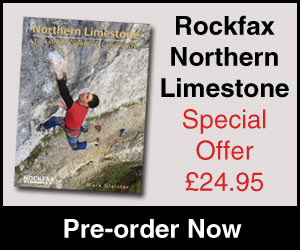 Elsewhere on the site
Perhaps the perfect Xmas gift for the climber in your life... Wild Country's Crack School has two of the worlds best crack... Read more
141219
0
F ounded in 1993, Mountain Hardwear are a pretty young mountaineering clothing and equipment manufacturer but are also one of... Read more
141216
0
Tonight's Friday Night Video features the Norwegian town of Rjukan, once believed to be the home of the world's tallest... Read more
141219
0
With four photos in this week's top ten, and a UKC gallery of stunning images we thought it was time we had a chat with... Read more
141203
0
Rock shoes stink – let's face it. Boot Bananas are the perfect way to fight the funk and keep them fresh. They help... Read more
141219
0
---