| | |
| --- | --- |
| | / Lakes tomorrow? |
This topic has been archived, and won't accept reply postings.
Thinking of heading over the lakes tomorrow with a friend, got the day off!! Has anyone been there yesterday or today or know anyone that's been and got any idea of the conditions and best places to go red tarn/ great end/ scafell. Reckon the further east will be better. Any knowledge of the conds would be great thanks. Checked met office mountain weather and the freeze level is 500m today and 400m tomorrow so signs are good
In reply to
David Cowley:
Sorry to pry but what sort of climbing / grade are you after?
Probs a grade lll. Just bumping this up
In reply to
David Cowley:
I'm in the south lakes at the moment and I don't think it's quite that cold, although still freezing up high I would guess. I was out on Sunday and conditions up high were good and I would think that this is still the case. In your position I'd look at something mixed; the obvious ones on Red Tarn face, (suspect it won't be that crowded mid week although I avoid on the weekend,) or something on Dollywaggon North, or Pinnacle Ridge on Gable. Brown Cove Crag had frozen turf but not much snow cover last Friday, but could be a bit better now as we've had some snow since then. Don't think you'll have much fun in a big gully at the moment; I wouldn't go to Great End.
Big health warning that this is my best guess from having been out on Sunday and having climbed in the Lakes for a while - NOT necessarily a sure thing.

In reply to
David Cowley: Was at Red Tarn Sunday. Did an easy Gully (Gully 2?) after ascending the Soutern flank of Nethermost Cove earlier in the day. Snow was beginning to consolidate in the upper 100 m but was for the most part pretty powdery. Turf was not frozen. It may have improved in the last couple of days, but it probably needs a bit longer yet really
---
This topic has been archived, and won't accept reply postings.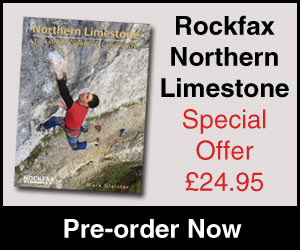 Elsewhere on the site
This Winter Conditions page gives a summary of what is being climbed at the moment, what is 'in' nick and what the prospects are... Read more
Rock shoes stink – let's face it. Boot Bananas are the perfect way to fight the funk and keep them fresh. They help... Read more
141219
0
Tonight's Friday Night Video features the Norwegian town of Rjukan, once believed to be the home of the world's tallest... Read more
141219
0
F ounded in 1993, Mountain Hardwear are a pretty young mountaineering clothing and equipment manufacturer but are also one of... Read more
141216
0
Perhaps the perfect Xmas gift for the climber in your life... Wild Country's Crack School has two of the worlds best crack... Read more
141219
0