Click to view latest messages in all forums

This topic has been archived, and won't accept reply postings.
Premier Post - Petzl Tikka 2 Plus Headtorch - Just £25
by - The Climbers Shop
on - 05 Dec 2012 - www.climbers-shop.com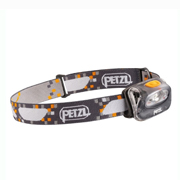 Click here to go to our product page http://goo.gl/fge8d

www.climbers-shop.com

Continuing the success of their Tikka headtorch range, Petzl have introduced the Tikka 2 Plus. It offers high power LED lighting with the addition of a smaller red LED for safety and to preserve night vision.

The Tikka 2 Plus combines two LED light sources for maximum versatility: one white, high-output LED and one red LED. The white LED delivers 50 lumens in maximum mode and lights up to 35m. In economic mode, it offers a battery life of up to 140 hours. The red LED provides secondary lighting to preserve night vision or, in strobe mode, for increased safety in low light conditions.

The TIKKA PLUS² can be used with lithium batteries to decrease weight or increase performance, particularly in cold weather.

The Climbesr Shop have the Petzl Tikka 2 Plus available for just £25 rrp £40

THE PETZL TIKKA 2 PLUS FEATURES
• Versatile and powerful:
- Three white lighting modes (maximum, economic and flashing mode)
- Two red lighting modes: continuous and strobe
- type of lighting (white or red) is selected by pressing for two seconds on the push-button (the last mode used remains in the memory until the next use)
• One high-output white LED:
- 50 lumens (maximum level)
- shines up to 35 meters (maximum level)
- 140 h light duration at economic level
- specific Petzl lens optimizes the reach of the beam and maximizes versatility
• Easy to use:
- electronic push-button switch
- battery pack is easy to open
- light beam can be aimed
- ADAPT system is quick to mount
• Reliable:
- push-button switch limits inadvertently turning on the lamp during storage
- battery charge indicator light (comes on when the headlamp illuminates for less than 5 m and there is
only 50 % burn-time remaining for proximity lighting)
• Compatible with lithium batteries:
- lighter than alkaline batteries
- better performance at lower temperatures
• Operates on three alkaline AAA/LR03 batteries (included)
• Degree of protection: IP X4 (water-resistant)
• Weight: 83 g including batteries
• 3-year guarantee

Click here to go to our product page http://goo.gl/fge8d



---
This topic has been archived, and won't accept reply postings.

[top of page] - [forums latest]