| | |
| --- | --- |
| | / Numpty skiing trip advice please |
This topic has been archived, and won't accept reply postings.
I am in the early stages of planning a week's skiing holiday for February 2013 and need some advice. We're a bunch of 40-something numpties on skis, but have skiied before (more than ten years ago). What websites offer the best deals for groups of say 6 people, and are there any places we should be looking at going (e.g. Andorra, France etc) or are they all pretty much the same? Should we go self catering or all inclusive, what about hiring kit etc etc?

Ideally we'd like to fly, not drive.

Fangs a lot.
In reply to
Frank the Husky: directski.com generally tend to have the best deals though it's also worth looking at crystalski, and all of the other package operators for deals.
In reply to
Frank the Husky: Me and my pals usually look at Igluski when we start planning our trips, they seem pretty good at winkling out suitable deals from the package operators.
If your skiing is likely to be rusty then it might not be worth the cost of going to one of the premier resorts (eg the big Tarentaise resorts in France). At the very least you risk paying for an expensive lift pass which you won't be able to make best use of. On the other hand, if you've not been for a while then presumably you'd like to get
some
skiing done so I'd steer clear of the more southerly resorts eg Andorra as they are less snow-sure.
I'd always recommend half board or chalet board unless (a) someone in the group is good at cooking for a group and happy to do it - probably sacrificing some of their skiing time as a result, (b) you're prepared to pay to eat out a lot, and/or (c) you're not fussy about food and will happily spend a week subsisting on pasta+salad.
For a first time back on skis after 10+ years I'd suggest renting kit. You don't have to go with the tour operator's rental arrangements, and it's usually cheaper not to. You can often get discounts for booking independently online - use Google to find ski rentals in your chosen resort. If you're an AA member then they have a discount ski rental promotion, I'm sure there are others.
In reply to
Martin W:
I went with a group of mates last year to Austria, it was better than our usual week abroad because we skied somewhere different every day for a change. Our host/guide/driver was a outdoor ed instructor so he offered plenty good advice and threw in some guiding on his day off as well. AS for accom, its up to you as they organise it as you wish.
Might be worth a try for you.
http://www.whitedescents.com/
In reply to
all: Some great advice there, fangs very much indeed.
---
This topic has been archived, and won't accept reply postings.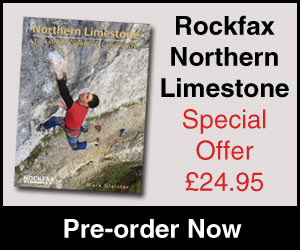 Elsewhere on the site
Perhaps the perfect Xmas gift for the climber in your life... Wild Country's Crack School has two of the worlds best crack... Read more
141219
0
Rock shoes stink – let's face it. Boot Bananas are the perfect way to fight the funk and keep them fresh. They help... Read more
141219
0
Tonight's Friday Night Video features the Norwegian town of Rjukan, once believed to be the home of the world's tallest... Read more
141219
0
With four photos in this week's top ten, and a UKC gallery of stunning images we thought it was time we had a chat with... Read more
141203
0
F ounded in 1993, Mountain Hardwear are a pretty young mountaineering clothing and equipment manufacturer but are also one of... Read more
141216
0