| | |
| --- | --- |
| | / Dry Tooling Venue - Aberdeen Sea Cliffs |
This topic has been archived, and won't accept reply postings.
Before I am publicly castrated on here, I was wondering if any of the Aberdeen sea cliff fiends on here could put forward a possible suggestion of a section of the sea cliffs which could be used for dry tooling? I.e. A section too damp and minging that is never climbed upon, but would be acceptable within the sea cliff climbers to be used for tooling?
In reply to
Lamb: There is some tooling at the Harbour Wall - the first three lines to the left of the cave were dry tooling lines.
In reply to
Brian: 3 lines left of the cave at Harbour Wall? That would be Great Escape, Desederio and Desdemonia - all starred rock routes?
In reply to
tenbob: That thing right of the Secret Policeman's Ball?
In reply to
tenbob: Nah the big cave with the bolts well left of the trad routes at Harbour Wall and it was only the lefthand two that were dry tooled I thought. There are 5 bolted lines, the lefthand two are the dry toolers than a F6b+, F7c and finally a F7b.
In response to Lamb's original question the perfect venue is the vast amphitheatre area of rock at the righthand side of Johnsheugh. Right of the trad routes. Another place with potential is the vast cave at Findon Ness right of Grave Doubts. You will need a drill, bolts and a vast amount of energy but go for it. My other top tip would be the right wall of Boglesheugh ie the east facing wall, big and scary but some solid rock in there for the bolts.
In reply to
IceBun: the 3rd line was top roped from the hangers quite a few times - I never got around to putting in the rest of the bolts in due to good conditions in the hills. Rankers put the rest of the bolts in I believe..

In reply to
IceBun: Cheers for the advice. I've no experience with bolting whatsoever, but if there were a couple of interested parties keen for setting up a crag, then I would be more than willing to help out. I'm sure Aberdeen could be doing with a venue like this, would definitely get used.
---
This topic has been archived, and won't accept reply postings.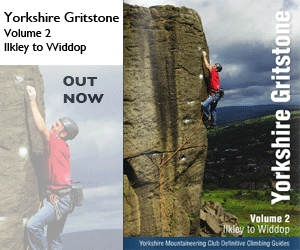 Elsewhere on the site
This Winter Conditions page gives a summary of what is being climbed at the moment, what is 'in' nick and what the prospects are... Read more
The release of Peter Jackson's new film The Hobbit: The Battle of the Five Armies on 12th December may not appear to link to... Read more
141212
0
Rock shoes stink – let's face it. Boot Bananas are the perfect way to fight the funk and keep them fresh. They help... Read more
141219
0
F ounded in 1993, Mountain Hardwear are a pretty young mountaineering clothing and equipment manufacturer but are also one of... Read more
141216
0
Tonight's Friday Night Video features the Norwegian town of Rjukan, once believed to be the home of the world's tallest... Read more
141219
0
Perhaps the perfect Xmas gift for the climber in your life... Wild Country's Crack School has two of the worlds best crack... Read more
141219
0
---