The excellent conditions and weather last weekend gave everybody a superb time. The winter skills day was well attended & well received by 11 of us on an ascent of Sgurr a Bhasteir.
Next day Jim Higgins & Ross made the 3rd ascent of HDQ on Am Basteir -
http://scottishclimbers.blogspot.co.uk/
while Martin (HDQ 1st Ascent) & Pete (HDQ 2nd Ascent) were knocked back on their attempts to tackle a new line close by-
http://www.ukclimbing.com/images/dbpage.html?id=209900.
Sadly nobody used the conditions & full moon to try the Traverse but all may not be lost despite a real plastering through the start of this week. A convincing thaw up to 800+m today and another warm blip tomorrow could well work in everybodies favour next week with a return to very cold settled conditions.
I was out on Wednesday (gallery-
http://skyeguides.co.uk/deep-winter-play-5th-december/
) but we just took our rack & ropes for a beautiful wander along the crest rather than swimming up any climbs. Despite drifts on the flanks there was an encouraging crust on the older snow below that made the very crest quite speedy & easy still. Worth watching the stability of the drifts higher up; we broke through an inch deep crust but this may thicken & make windslab more of an issue if it doesn't thaw as much as I hope.
There was the beginnings of some quite sizeable ice, by Cuillin standards, in south facing corners at "mid-level" including Southern Comfort (IV)-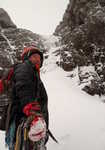 http://www.ukclimbing.com/images/dbpage.html?id=188294
Big winds in with the warm blips this weekend should all help keep things whiter more than black over the coming week and hopefully any fresh powder will drift off.
I noted the request for Skye routes on another post which reminded me of an outstanding mission to put guidebook times on sections of the Ridge in winter. Nearly finished that but will post seperately and also add it to my winter Traverse advice on the website.