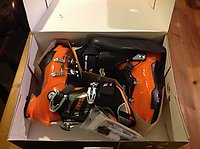 Brand new pair of Scarpa Maestrale ski touring boots, mondo 275. One of the best all rounder ski touring boots in recent years - light enough for multi-day tours but stiff and featured enough for some excellent descents. Suitable for all touring bindings ( dynafit compatible).
£300 ono posted. Cumbria based.
Oh go on then £275 it is.
In reply to
lunchbox: What is the fit like? On the big or small side of the size?
Just tried em on. Wonderful fit, skiable out of the box if you wanted to. Feel to be bang in the middle in terms of size - I can vary between 8/8.5/9 on different brand boots - so these seem to be bang on for a 8.5/42/mondo275 fit. Hope that helps.
In reply to
lunchbox: Hi thanks for that. I did ski in a couple of these boots rented for a day last year but cannot remember the size. (I am usually a size UK Woman 7.5/8) I am trying to get hold of the records of what size I rented and Ill get back to you. I am slightly concerned that they may be a bit big..
If you get the inners baked that would take them to fit ok I'd think - key is the shell size. I can send the info on that later.
In reply to
lunchbox: Great, if you can PM me with that info that would be grand.