View latest messages in My Forums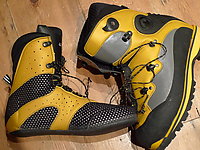 Price: £300
For sale
We are selling our himalyan boots due to a new baby ( dont worry we will be back!!)The spantik were new and have literally been used for 8 days on Ama Dablam and nothing else. for all intense and purposes they are nearly new.
Size 44.5
Price - £300 ovno
see review -
http://www.ukclimbing.com/gear/review.php?id=3238
Scarpa 8000 have been up ama, Mera Peak and Island but are in great condition. Warmer than the spantix due to inbuild gaiter.
Size 43
price £220 ono
Were based in Bristol but will be up in warwick for Xmas and can get them to Guildford or London.
We can P and P at extra cost
Feel free to contact me for a chat 07941301224 or email for pics
timbochapman@hotmail.com
In reply to
kirioi:
hi Kirioi
are the scarpas still avalable?
cheers
phill
In reply to
the optimist: yes the scarpa are still availible
give me a ring on 07941301224 if you want more info or pics. cheers tim
In reply to
kirioi:
hi sorry - now sorted with another pair
cheers anyway
phill
---
My Forums