The forecast finally stuck to its guns and rewarded those who made the effort with stunning weather & conditions for the Winter Traverse.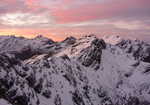 http://www.ukclimbing.com/images/dbpage.html?id=210371
First team was the Fort Bill Flyers Guy Steven, Donald King, Kenny Grant & Duncan. They chose to go lightweight single day style a privelege of those in fighting fettle with an intricate knowledge of the route. They passed us on our walk out from Ghrunnda still romping along despite having been on their feet since half past one in the morning!
Ken Applegate and Scott Kirkhope bivvied in Bhasteir corrie to give themselves a good start and my first update was a text from Bruach na Frithe at 7-30am.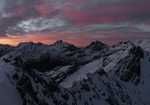 http://www.ukclimbing.com/images/dbpage.html?id=210402
They bivvied near the Pinn. the next night and were glad to finally get some virgin crest on the romp out to Gars-bheinn beyond Sgurr nan Eag. They finished together with Ronnie and John Orr who had quite an epic by the sounds of it.
Apparently the guys compounded the stamina test with their approaches to Skye: John had driven from North Wales, Ronnie from Northern Ireland before meeting up in Glasgow, heading for Sligachan and setting straight off on the Traverse as soon as they arrived. One more confusion was following steps into Coire Bhasteir before thinking they were going the wrong way, heading back down & round onto the Tourist Route- possibly their most incredible display of determination and must have made the Ridge seem easy!
Travelling solo Submariner started with a classy ascent of Pinnacle Ridge, overnighted on Ghreadaidh (so my spies reckon:) and finished right at the end on Gars-bheinn. Congratulations all round; lets hope that this isn't the only set of good Traverse conditions for the season.
Quite a few reports of climbers out playing on routes, especially members of Skye MRT; Neil Urquhart and Chris French added Portcullis Gully, 110m, III/IV 4 on An Caisteal, while on Sgurr a Ghreadaidh Paddy Maguire was on Vanishing Gully and Rob Lawson on Eag Dubh Gully.
Snow distribution was quite specific with great quantities on eastern aspects in particular. Multiple freeze thaws will now have made the snow pack good and solid and hopefully a base for a really good season.
The forecast is once more against the weekend climbers. With rain on Saturday and temperatures likely to reach double figures on Sunday chances are that the crest will be stripped by Monday. A drop in temps is expected early next week so maybe a chance for one or 2 more routes before Xmas.