| | |
| --- | --- |
| | / Nikwax |
This topic has been archived, and won't accept reply postings.
does anyone know if Nikwax can be used on anything? by this i mean can you use it on something that is not waterproof or never was and it will gain waterproofing?
In reply to
bigpad: I take it you're talking about the TXDirect, not the leather waterproofing?
The T X Direct wont make anything waterproof, it will add a slight water repellency to most materials though.
In reply to
bigpad:
Correct that they make loads of products for different applications. Their "Tech Wash" is just a cleaner that is safe for waterproof/water resistant fabrics. It doesn't add and water repellency. You can wash anything in it and in fact it is less harsh for your clothing than regular detergent.
In reply to
ceri:
> (In reply to Ben Sharp) Nikwx is a company not a product. They do various waterproofing products which do make various things waterproof and these are generally fabric specific, although we ahve used cottonproof on non-cotton fabrics and it seemed to work fine!

Selling the stuff on a daily basis I am aware that nikwax is a company, hence why I specified in my response that I made the assumption the OP was talking about TXDirect; they didn't make it clear what particular product they were requesting information on but TXD being the most used fabric waterproofing of their range it seemed like a reasonably safe assumption to make.
No Nikwax waterproofing makes fabric waterproof, it's adds a water repellency to the fabric. To test this, treat any non-waterproof fabric with any of the Nikwax range and fire a hose at it.

In reply to
Ben Sharp: Sorry Ben, Meant to reply to OP, he was the one being vague, you were very precise! I was also being vague assuming that he didn't really mean "waterpoof" but "water resistant"...
---
This topic has been archived, and won't accept reply postings.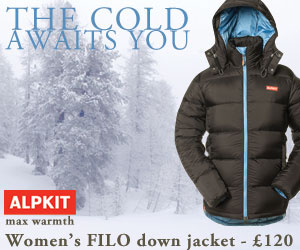 Elsewhere on the site
Rock shoes stink – let's face it. Boot Bananas are the perfect way to fight the funk and keep them fresh. They help... Read more
141219
0
At a bar in Llanberis an old man chimed in And I thought he was out of his head Being a young man I just laughed it off When... Read more
141203
0
Perhaps the perfect Xmas gift for the climber in your life... Wild Country's Crack School has two of the worlds best crack... Read more
141219
0
Tonight's Friday Night Video features the Norwegian town of Rjukan, once believed to be the home of the world's tallest... Read more
141219
0
F ounded in 1993, Mountain Hardwear are a pretty young mountaineering clothing and equipment manufacturer but are also one of... Read more
141216
0