| | |
| --- | --- |
| | / Climbing on Chalk, First Timer! Advice?? |
This topic has been archived, and won't accept reply postings.
Hi
I am interested in climbing some chalk on the Sussex coast, but don't know what gear would be necessary? Do you need ice axes and cramp-on's or is it possible to climb in normal rock shoes, like a standard trad climb?
As for protection, are nuts, hexes and friends useable or do you need warthogs and other ice gear?
Also are there any locations best to start at?
Cheers
=)
In reply to
MrJoshua:
Best advice, head to Peglers in Arundel, track down Dave Pegler and ask him, tell him Simon sent you :)
In reply to
MrJoshua: It depends on the routes.
Some are best approached as traditional rock limbs on questionable rock where as other are best approached as mixed climbs.
The CC Sandstone guide provides a bit of a heads up but these routes change rapidly year to year so some reconnaissance or even abseil inspection would seem very sensible.
In reply to LJC: The top of the chalk cliffs is an sssi, best not to abseil off or top out (and there is nothing to go off anyway). Plenty of low, overhung, climbing to boulder around on for training if you aren't bothered about climbing 'up'. Whilst it would be possible to climb with hands, axes are the norm, crampons or rock boots at your choice. Some routes are semi pegged or bolted in a fashion, not really much option for reliable trad gear. Warthogs are needed for some routes.
In reply to
MrJoshua: Big Lee is one of a few UKCers that climbs regularly on the chalk. His blog will give you a decent flavour of what it is all about ...not for the faint hearted.
http://leeharrisonclimbing.blogspot.co.uk/
I'm curious, but haven't given it a shot just yet. Saltdean seems like a decent place to start, most routes on the Sussex and Kent coasts are climbed with winter gear, although famous chalk routes such as skeleton ridge on the Isle of Wight are more usually treated as rock climbs - I guess the consistency of the chalk varies considerably.

In reply to
MrJoshua:
Sussex Coast:
Most people climb at Saltdean. Routes have in-situ pro and lower-offs. Top-roping is possible only if someone leads a route first. Some of the pro is fairly rusty so big falls are not advisable. You need crampons/ice axes. Climbing is a bit like dry tooling but you sometimes need to kick the feet in a bit more as with ice. Crampons need to be mono-points so as not to damage the holds. Very important that new holds are not made (unless a section of the route has fallen off). There's some good low-level traversing but best have a spotter for overhung sections (I learnt this last week) in case a hold blows unexpectedly.
There's also some trad stuff at Hastings that is either climbed with rock shoes or ice gear depending on the specific venue. Can't comment too much as haven't visited Hastings yet. There's also some trad at Beachy Head if you are happy climbing XS 5c (not me). Again I can't comment on these routes as simply not a good enough rock climber to consider.
---
This topic has been archived, and won't accept reply postings.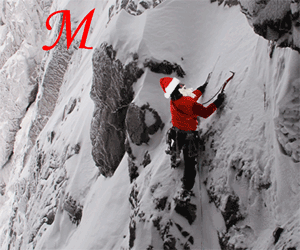 Elsewhere on the site
Rock shoes stink – let's face it. Boot Bananas are the perfect way to fight the funk and keep them fresh. They help... Read more
141219
0
F ounded in 1993, Mountain Hardwear are a pretty young mountaineering clothing and equipment manufacturer but are also one of... Read more
141216
0
Tonight's Friday Night Video features the Norwegian town of Rjukan, once believed to be the home of the world's tallest... Read more
141219
0
The release of Peter Jackson's new film The Hobbit: The Battle of the Five Armies on 12th December may not appear to link to... Read more
141212
0
Perhaps the perfect Xmas gift for the climber in your life... Wild Country's Crack School has two of the worlds best crack... Read more
141219
0