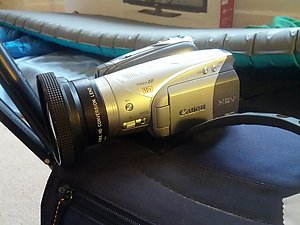 I'm thinking of getting rid of my trusty HV20. This is the actual camera that shot L'Etranger and Between The Trees! I've only used it as a backup camera in the past few years so I thought it could go to a new home where it may get used (and loved) more regularly.
What's included;
Canon HV20
Canon Charger
Raynox HD-6600 Wide Angle lens (there are some tiny blemishes on this but they are not noticeable at all in the footage)
2 * Batteries - 1 standard canon one and 1 extra long life one
2 * Sony DV tapes to get you started (brand new and unopened)
2 * 6 pin to 4 pin firewire cable (one is about 1m and the other is about 20cm)
4 pin to 4 pin firewire cable
2 * S-video cable (1 with a scart adapter) - this allows you to plug the camera straight into a TV for playback
Microfibre cloth for cleaning lens
Velbon DV-7000 tripod - This is in good working condition. I would be happy to keep on using it and take it away with me on my next trip but it's just a bit too heavy for a backpacking trip.
LowePro Nova 4 AW - Great camera bag. Big enough to fit everything you could want to take out. In great condition.
Prices:
Canon HV20 Kit - £200
Velbon Tripod - £40
LowePro Bag - £20
I could post, but you would have to cover that. Collection is better and could be arranged from Bristol or London (on Wednesday 9th January).
PS. If it doesn't sell by Wednesday 9th January then it will have to go into storage as I'm off for 6 months.
Photos can be viewed using these links;
http://i38.photobucket.com/albums/e129/unclesomebody/IMG_20130107_110812.jpg
http://i38.photobucket.com/albums/e129/unclesomebody/IMG_20130107_110756.jpg
http://i38.photobucket.com/albums/e129/unclesomebody/IMG_20130107_110746.jpg
http://i38.photobucket.com/albums/e129/unclesomebody/IMG_20130107_110732.jpg