| | |
| --- | --- |
| | / Borovets, Bulgaria |
This topic has been archived, and won't accept reply postings.
Afternoon.

Has anyone ever visited this place? I'm off there in a few weeks for a skiing/stag long weekend. I've never skied, and I've never been to Bulgaria. I'm reasonable at drinking though.

Tips on bars, places to go, places to avoid etc etc would be welcome.

Cheers
In reply to
Axel Smeets:
We went there several years ago, chosen because it was the cheapest deal we could find, and we thought Bulgaria might be more interesting to visit than France.
We were somewhat shocked on the first night to discover the place was something of an Ibiza on Ice with all the bar owners offering free shots to get you into their bar and prostitutes in the lobby of the largest hotel!
However after the initial shock we had a fantastic holiday, I was in Ski School and had a great instructor who spoke good English. Our Hotel was lovely and comfortable, the food was fine, the alcohol was cheap and everyone was very friendly.
The infrastructure is not up to the standard you would expect in France/Switzerland etc, but everything worked fine.
Our favourite bar/cafe was White Mountain (I think), the owner was an ex ski champion and very friendly. As well as owning the bar he does a bit of filming on the side so we had our lesson videoed one day which was very funny and a great souvenir.
In reply to
Axel Smeets:
Off there next week myself skiing, everything i've heard so far sounds good. Seems the Hotels are not up to the "standard" or quality of france/switz etc but its cheap and cheerful so what can you expect? Plus they got a big snow dump due today so looking good. Everyone i spoke to raves about the quality of the Ski instructors so if your a beginner you should be ok.
In reply to
cavegirl99:
Despite preferring the quiet life when on holiday, I'm really looking forward to the trip. I've read it's a lively place and your comments seem to reflect this. I'll keep an eye out for White Mountain bar too. Thanks for your reply.
In reply to
benghull:
Excellent. I checked the weather last night and it was a chilly minus 17 with fog. A few more big dumps throughout January will do nicely. Enjoy the trip.
---
This topic has been archived, and won't accept reply postings.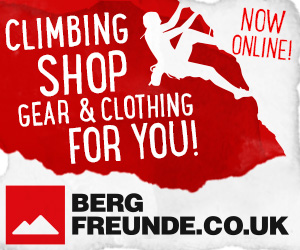 Elsewhere on the site
The release of Peter Jackson's new film The Hobbit: The Battle of the Five Armies on 12th December may not appear to link to... Read more
141212
0
Rock shoes stink – let's face it. Boot Bananas are the perfect way to fight the funk and keep them fresh. They help... Read more
141219
0
F ounded in 1993, Mountain Hardwear are a pretty young mountaineering clothing and equipment manufacturer but are also one of... Read more
141216
0
Tonight's Friday Night Video features the Norwegian town of Rjukan, once believed to be the home of the world's tallest... Read more
141219
0