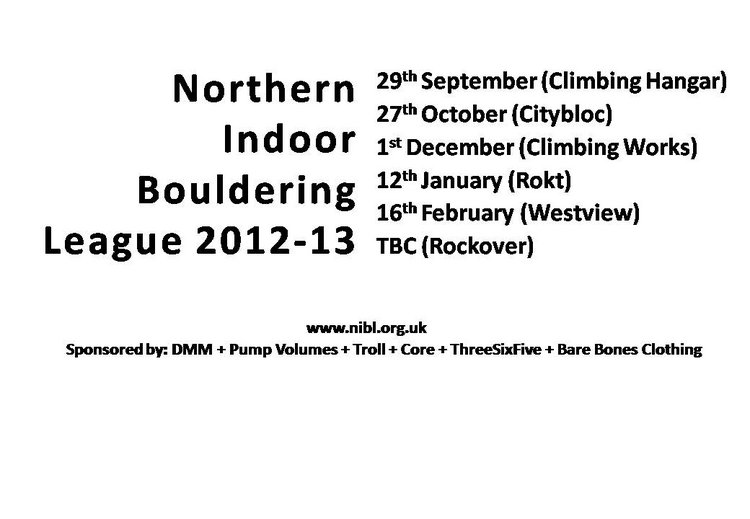 The Northern Indoor Bouldering League is back for round 4 at Rokt in Brighouse (www.rokt.co.uk)this Saturday 12th January. (this date was originally the 26th Jan, but moved due to clashes)
NB registration time is 11am onwards, climbng time starts at 12pm for 3hrs. £10 entry fee, under 11's pay Rokt's regular entry fee for that age.
30 problems to go at set by the country's best and IFSC recognised routesetters.
Loads of prizes and freebies to be had. Many thanks to our current sponsors DMM Climbing, Troll UK, Pump Volumes, Bare Bones Clothing and THREESIXFIVE.tv
2011-2012's League Champions are:
Dave Barrans - Open Mens
Diane Merrick - Open Womens
Michael Hopkins - Juniors Males
Hannah Wilson - Junior Females
Andy Farnell - Male Vets
Sian Oakley - Female Vets
Please visit out new website www.nibl.org.uk for any more info.
Become a fan of our Facebook page
http://goo.gl/xt9Qw
for upto date info
NIBL is a proud supporter of Climbers Against Cancer, keep an eye out on their website www.climbersagainstcancer.org and get yourself a tshirt in support!