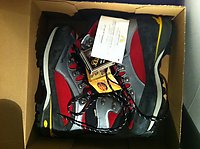 Price: £178
As title, selling some brand new La Sportiva Trango Alp GTX boots in size 42.5 (UK 8.5). They still have tags on and have not been worn outdoors. Basically, I bought these from Sports-Conrad in Germany but they are slightly too small. So I've ordered a larger pair but rather than return these to Germany straight away at a cost of £30 +£15 for the initial postage, I thought I'd check if anyone on here was interested!
£185 is what my account was charged for these after postage and currency conversion, which is the cheapest you can find them anywhere in the world! £250 seems to be the cheapest price in the UK for the boot in this size.
I will include the shop invoice so you'd have that and my contact email in case if you ever needed claim on the warranty.
Price includes postage, will be less if collected in London.
As a new user posting an ad I should probably include little a bit about myself - Although I've just joined on here I've been climbing since I was four, mainly in Scotland with the occasional jaunt abroad. However, since moving down to the south of England a few years ago I've mainly been mountain biking instead due to ease of access. I'm planning to get back into the mountains more now I've got a car, hence buying the new boots (one of the soles on my old pair had literally crumbled). Here's a link to my Pinkbike page where I've been a member for a couple of years now, just in case anyone has reservations about buying from a new user.
http://www.pinkbike.com/u/Murvis/
Any questions don't hesitate to ask.
Cheers!
Murray