| | |
| --- | --- |
| | / drummond |
This topic has been archived, and won't accept reply postings.
can anyone remember the name of an event pioneered by ed drummond (climb for the world) i think it was called where
people world wide were to climb a mountain on a given day for charity, there seems to be no reference to it at all.......or have i imagined it...
In reply to
Deafdave:
Yes, it was called Climb for the World, and yes it was how you remember it. In fact a UKC user climbed the Mittelegi on the Eiger as a part of it. Can't remember the date but I'm sure if David sees this he'll give you more details.
In reply to
jon: It was in 1991, mentioned in a erview fo 'Dream of White Horses' on Amazon
"Ed Drummond's climbing essays initially gained prominence in the prestigious American Journal Ascent. First published in a book in 1987 they formed a loose autobiography covering an eventful private life from school and college days in the sixties, a long sojourn in the United States and a return to Europe in the mid-eighties. Yet it is principally a climbing book so the main chapters concern big climbs: first ascents on St. John's Head and the Troll wall, a solo ascent of El Capitan's Nose and an audacious solo attempt on the North America Wall on which the author nearly froze to death. Political and social concerns also figure prominently as Drummond has used his climbing skills to draw attention to a variety of causes - an anti-apartheid protest on Trafalgar Column and building climbs in the US in support of civil-rights activists. More recently he organised the 'Climb for the World' extravaganza. This attention-gaining Ed Drummond roadshow is tempered by a more private, darker side of his character. Adolescent sexual pre-occupations curdled into a sequence of failed marriages and relationships, bringing him to the edge of despair. This too is reflected in his writing, as is his tenacious struggle away from the brink, and his scorn for attempts to romanticise such pressures which emerges in one particularly trenchant essay. Indeed, this collection, though rooted in climbing, uses danger, elation, toil and intense relationships to allow a thorough literary examination of the psyche that leaves the reader both enlightened and exhausted in its wake.
"

In reply to
Al Evans: Thanks for the information ,I had tried the title ( climb for the world )and ed drummands name to search the Internet but it seems there is no record of the event
---
This topic has been archived, and won't accept reply postings.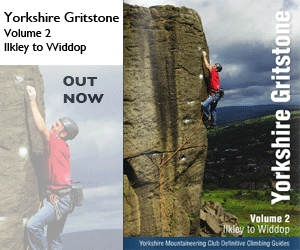 Elsewhere on the site
Will Sim and Andy Inglis have made the second ascent of VIII,9 on Ben Nevis, followed by Will making a rare... Read more
141222
0
PowerFingers is a simple, easy to use product which is incredibly effective for Climbers who require finger strength and... Read more
141222
0
The release of Peter Jackson's new film The Hobbit: The Battle of the Five Armies on 12th December may not appear to link to... Read more
141212
0